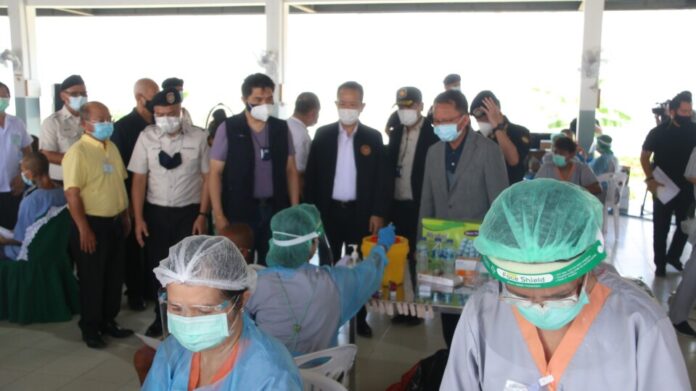 Chonburi –
The Chonburi Department of Public Health announced 32 new and confirmed cases of Covid-19 today, June 13th.
This makes a total of 5,355 cases of Covid-19 in the current round of infections, with 834 still in medical care, and with a total of 32 recorded deaths in Chonburi since the start of this recent round of infections in early April. One new death was announced overnight, although the details were not released.
Additionally, 4,489 people in total have now been released from medical care and fully recovered since this current wave began. 86 people were released yesterday.
The district-level new cases were as follows today:
Mueang Chonburi with 5, Si Racha 18, Banglamung (including Pattaya) 7, and 2 new cases transferred from other provinces for medical care.
The details on the cases are as follows:
Two confirmed cases are from Rayong Province.
Close contact from a previous market patient (linking a new market cluster) 1 case
Close contact from a private party cluster 1 person
General close contacts:
14 family members of previously confirmed cases
6 co-workers of previously confirmed patients
Close contacts under investigation 4 cases
Under investigation in general 4 cases
On the last day, a total of 220 close contacts were tested from contact tracing, and 1,411 people were tested in proactive testing when medical staff goes out into the community. All are pending results.