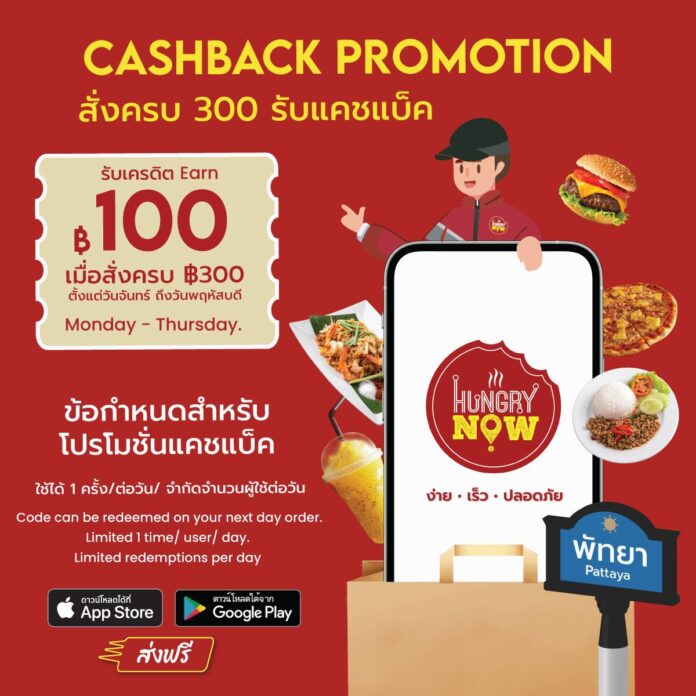 Pattaya/Chonburi-
Times are tough for many people right now and a lot of people are feeling a bit down. Perhaps it is the incoming rainy season, perhaps it's due to bars and nightlife closed due to government restrictions, or perhaps it's something else.
Regardless, HungryNow is aware that for many people locally finances are tight and they want to ensure that they help out local residents as much as possible during the month of June!
Of course, HungryNow has great savings every single day, free delivery for within 20 kilometers, no hidden charges or service fees, great promotions for June, and their hundreds of restaurants hold fantastic individual deals daily but this month HungryNow is taking it one step further.
This month, HungryNow is offering YOU cashback on your purchases. Here are the details:
Cashback Deals for June with HungryNow
Earn FREE ฿100 cashback on your FOOD ORDER.
– Order food worth ฿300 from Monday – Thursday & redeem your ฿100 cashback on your next day's order.
– Code can be redeemed on your next day's order.
– Limited 1 time/ user/ day.
– Limited redemptions per day – 20 times only.
– The code can be used only on the next day of the purchase of your food order and the same code cannot be used on the following day. Each code's validity is only for 24 hours.
– Voucher codes and cashback cannot be used on already discounted products
With so many restaurants to choose from it should be easy to find something that suits your style from pizza to Thai food to Indian food and burgers, there is always something for everyone with the thousands of restaurants – and more added weekly – that partners with HungryNow.
Finally, if you are confused about an offer or have a question, HungryNow is locally owned and operated, not a massive overseas company with foreign call centers. If you want to speak to a person, they speak English AND Thai and are actually local residents, like you, and familiar with the area and people.
So, stop listening to that grumbling stomach, save some money, and try HungryNow today!
Download the HungryNow app on the App Store and Play Store.
To stay up to date with HungryNow:
Like them on Facebook: https://www.facebook.com/HungryNow.TH
Follow them on Instagram: https://www.instagram.com/hungrynow.th/
Add them on LINE: https://lin.ee/BssQnUG
About HungryNow
HungryNow is a fast and reliable food delivery service in Pattaya and Chonburi connecting people with the best restaurants in the city. They do this by empowering local businesses and in turn, generate new ways for people to earn, work and live.
They started by facilitating door-to-door delivery, but we see this as just the beginning of connecting people with possibility — easier evenings, happier days, bigger savings accounts, wider nets, and stronger communities.
HungryNow is headquartered in Bangkok, Thailand, and has the first branch office in Pattaya and the second in Chonburi. For more information, please visit https://hungrynow.co.th
Contacts
For HungryNow: