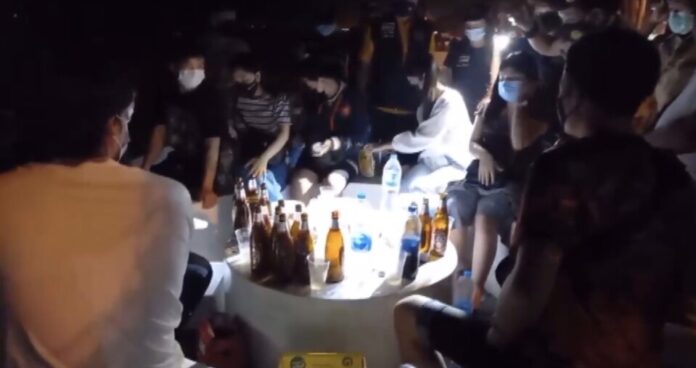 Bangsaen Beach, Saensuk, Chonburi-
Saensuk police, along with Chonburi provincial police, led an inspection early this morning on Bangsaen Beach, following multiple warnings over the past two weeks to people to stop gathering in the area, especially to drink alcohol and socialize.
Due to Covid-19 measures, beaches are currently only open for exercise officially. Any size gathering that is for socializing or mingling, especially for a party or around alcohol, is strictly prohibited. Violaters can face strict fines under emergency decree and communicable control act laws for Covid-19 that have stiff fines of up to 100,000 baht and/or up to two years in jail.
The inspection was led by Pol. Col. Surasit Nuengjamnong, commander of the Saensuk police at 2:30 A.M. this morning, May 30th, 2021, on Bangsaen Beach.
The police team first dispersed groups of about twenty to thirty youth skateboarding, including young children, out at almost 3:00 A.M., warning them that although the beach was open for exercise that the group was large and not just exercising but also socializing. The group was given a soft warning to go home for the night and obeyed the order.
Police then toured the beach area and arrested over twenty people, mostly teenagers, for various violations including drinking alcohol underage and violating Covid-19 rules against gatherings for social purposes.
Those arrested will face strict previously mentioned emergency decree and communicable disease act legal charges. The parents of those who are juveniles would also be contacted.
Surasit warned that inspections of the area would continue and encouraged people to stay home with members of their own household due to the current Covid-19 situation.
TPN media notes that although some beaches, like Pattaya Beach, are strict and prohibit people from stepping into the sand, swimming, or interacting in small groups others, like Bangsaen, have more relaxed rules. The mayor of Saensuk has previously warned, however, this light touch would end if people kept breaking the rules.