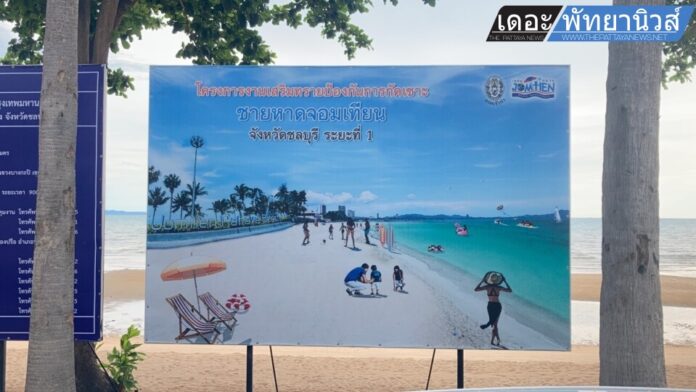 Pattaya, Thailand-
The Pattaya Harbor Department spoke with The Pattaya News today regarding a currently on pause project to expand Jomtien Beach and resolve coastal erosion, especially around Na Jomtien.
As of May 22nd, 2021, the project only has barricades and borders up announcing that the plan to expand the beach sand, similar to Pattaya Beach, will be "coming soon." This has been the status quo for many months, notes The Pattaya News. The project has been previously estimated at costing a total of 995 million baht over several years to expand the beach for 7 kilometers from Na Jomtien all the way up to Dongtan.
Phase One of the multi-year project, which was broken down into about 580 million baht to expand the beach to a similar length as Pattaya Beach currently is, is proposed to take place from the very bottom of Na Jomtien Beach and the associated seafood restaurants there to roughly Soi 11.
  Mr. Ekaraj Cantaro, director of the Pattaya Regional Harbor Office, stated that the project is still on hold due to waiting for specific equipment allegedly promised from the People's Republic of China and claims the issue is currently a Chinese national matter. The equipment is specifically referred to as boats designed to suction and implement the sand onto the beach, previously used on Pattaya Beach.
However, Mr. Ekaraj told The Pattaya News the license and equipment should be in place by next month, June 2021, without providing a definitive promise or guarantee. As a note, the photos were taken by our associated reporters at low tide. The eventual goal is for this to be able to be a similar look during high tide.
TPN Media will provide an update when the long-awaited project begins.