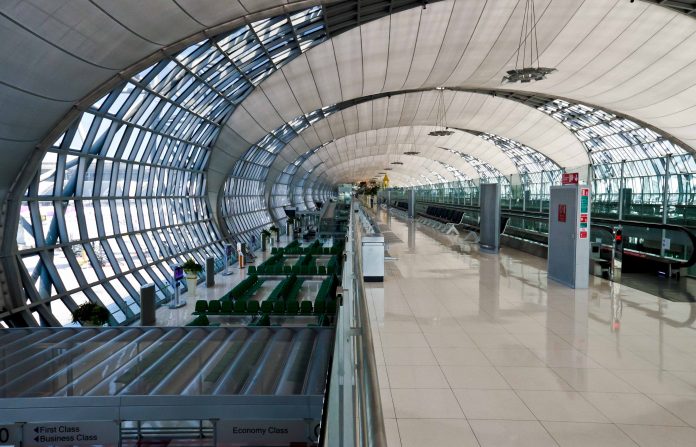 The following is a press release by the Thai Tourism Authority. Their thoughts and statements are their own.
Bangkok, 17 May 2021 – The Tourism Authority of Thailand (TAT) Tokyo Office recently offered the "Amazing Thailand Virtual Flight with JAL" to reiterate the awareness of Thailand as a destination for the Japanese people once the COVID-19 situation improves.
The event took place on 15 May, 2021, at the International Passenger Terminal, Narita International Airport, under collaboration with Japan Airlines and Narita International Airport, as well as other partners including PK Siam and ICONSIAM.
H.E. Mr. Singtong Lapisatepun, Ambassador of the Royal Thai Embassy, Tokyo, presided over the event and delivered a welcome speech to 162 passengers of flight JL9999, utilizing a Boing 767-300ER aircraft with a total flight time of 3.5 hours.
The event highlighted check-in for all 162 passengers divided into three groups for a welcome ceremony with Thai traditional dances and photography opportunities per the COVID-19 public health guidelines including social distancing and mask-wearing.
Onboard the special flight, in-flight services included serving food and beverage in a Thai ambiance with in-flight entertainment showing TV commercials about Thailand. A lucky draw activity was also held onboard offering a grand Prix – a travel voucher worth 100,00 Yen – that can be used to purchase an air ticket and tour package with JALPAK. Passengers also received a Thai spa souvenir from HARNN, as well as other Thai-style souvenirs including instant curry paste, instant Thai rice, Thai fabric elephants, and much more.
In addition, TAT Tokyo Office is offering souvenirs for any online registration for the Thailand Fan Club.