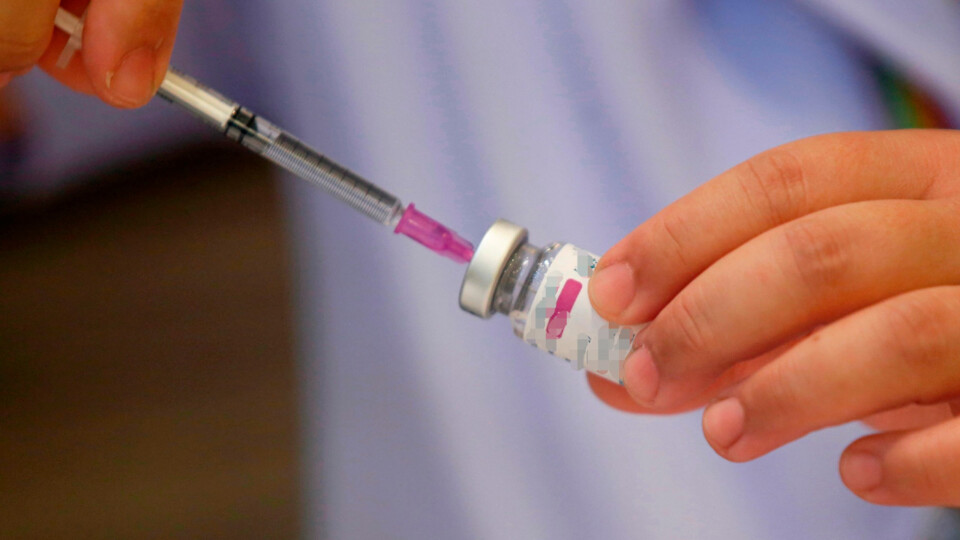 The following is our exclusive weekly feature in which we ask our readers a news topical question and then give you a week to answer it on our various channels, compiling a diverse range of answers and opinions to present.
Last week, we asked you the following:
Reader Talkback: Should Covid-19 vaccines be free for all foreigners, regardless of their visa status, in Thailand?
We added the context:
Should foreign residents get the vaccine free? Should there be a limit on who is eligible? For instance, should it be EVERY foreigner or only those that pay taxes or have permanent residency? Does it matter? Should "tourists" here on extended Covid-19 visas be able to get one for free?  Is a work permit more valuable than a retirement visa? Should foreigners be able to choose which vaccine brand they have?
Here is what you, our readers, had to say as our editors selected some of the most diverse responses to highlight different points of view.  Do you still want to chime in? Here is how:
  Let us know in comments, on our social media, or mail us at Pattayanewseditor@gmail.com. Please keep in mind all comments below are those of the reader, and may not reflect those of The Pattaya News Company Limited.
=-=-=-=-=—=-=-=–=-==-
Tweed H-I took my dog for a walk on the beach at Jomtien today. Wore a mask, not allowed to sit or swim, not allowed to approach or talk to strangers. All fine but on the way we passed countless businesses closed, one business owner, has reduced staff from 6 to 1 because of the lack of customers caused by the harsh restrictions. I ordered takeaway lunch from a well-known 5-star restaurant and was made aware that I was the only customer for that day. Of course, this is a red zone but it may well soon be called a dead zone. Businesses that are not already dead are suffering the pangs of a slow death. Some are lucky enough to have their rents deferred, others even luckier to have their rents reduced without any obligation to pay back later. People are genuinely trying to help other people survive but where is the help from the government? Some promised but not immediately, the promise has to rise for another ten days or so in which time it may very well have been rethought. Daily news reporting constant changes to conditions and restrictions curb people's desire to even plan for the future because it is such an unknown quantity. No other country on Earth is making anyone pay for a vaccine but Thailand wants to charge everyone, even Thais if they do not accept the vaccine offered. I am no expert in any field to do with this pandemic and report only what I read and what I see. IF THIS PANDEMIC IS NOT CURED ON A WORLDWIDE BASIS the accusing fingers will be pointing towards Thailand. THAT IS SUCH A SHAMEFUL ENDING FOR A NATION THAT HAS PROVIDED HAPPINESS FOR MILLIONS OF PEOPLE IN THE PAST AND FOR STILL SO MANY WHO GENUINELY LOVE THE COUNTRY AND WANT TO STAY HERE.
-=-=-==
Dario-Absolutely Yes! There's NOT another way to beat a pandemic but VACCINES! If you authorities love your country and your economy BUY VACCINES and distribute to EVERYONE!!…
=-=-=-=–=-
Harry Lyth-
Dear Editor,
I think it is about time the Thai people accepted us as equals and showed some humanitarian qualities, just as many foreigners provided free food for the poor last year.  "Farang" itself is a very divisive event racist term. Tourists are stranded here through no fault of their own and spend their money here. Retirees have chosen Thailand as their home and should be made to feel welcome. They also are self-financing and the state profits from that. Foreigners who work here contribute to the state massively.
So in my humble opinion, the vaccine should be available to all. I for one have the means and would happily pay for it. So make it free in general and let those who have the means make a voluntary contribution.
As an afterthought, the last thing Thailand needs now is to squander precious energy and resources on bureaucratic measures to decide who qualifies and who doesn't.
Sincerely
Harry Lyth
-=-=–=-=-=-=-
Thomas L-I can't really comment on the subject of payment much
All I can say is Thailand is getting vaccines and permission to produce vaccines from other countries so without the help of foreigners they wouldn't have access to any vaccines they should not forget that
The one thing that concerns me as a high risk due to underlying medical conditions is there is no mention of this in the discussion
What are the priorities if the vaccines become available?
I know of some that are thinking of returning to their county of origin due to this concern
I'm thinking about it myself, to be honest
As for payment, I can afford it no problem
But will I have the right to choose?
I can understand the fear of capitalism and market forces and don't want that to happen
The Thai government should let people know what to expect a lot of talk from individuals but no action just constant production from the rumor factories
Causing a lot of people to worry and make unwise decisions in some cases
Politicians have a lot to answer for by not addressing these fears
Lack of leadership is the line that comes to mind
They should be trying to calm these waters
Instead of trying to make a splash
-=-==-=-=-
Arne J-If covid-19 is to be eradicated, everyone must be vaccinated whether they are foreigners or Thai.  I myself am a permanent resident and pay taxes, so I take it for granted.
-==-=-=-=-=-
Rhys L-Yes. I'm also ok with Sinovac, as there is a lot of incorrect information about it out there and sinophobia around it. Recent efficacy surveys, including from SAGE and Indonesia, show that it is extremely efficient at stopping serious Covid-19 symptoms and issues after two doses. The WHO is increasingly becoming more confident with it as well.
–=-=-=-=-=
Ravi–
Someone in the Thai ministries has done the math.
Even if you take 1 million farangs and charge them 1000bht per vaccine (for 2 shots) that comes to:
1 billion baht, enough to pay for xx% of the free vaccines for their people. Not to mention the tea money from hospitals
After all, aren't farangs suppose to be rich and can afford to live in the Land of Smiles.
=-=-=-=-=-=-
Peter I-No. Most of these foreigners complaining about not getting a vaccine for free here are the same ones constantly making racist and bigoted remarks about migrants in their own countries and would throw a fit if the immigrants got shots first back home. It is hypocritical. Instead, embassies should help provide for their citizens.
=-=-=-=-=-=-=-
David P-
Given that the various vaccines cost from 150 baht to 750 baht, I think many expats and tourists would not mind paying a service fee for a shot of 1,000 to 2,000 baht.
I agree with others that getting the Covid vaccines in people as fast as possible is what is important as it has proven in other countries to lower the cases, hospitalizations, and deaths. This is key for Thailand's tourism and economy.
=-=-=-=-=-=-=-
David W-Free or not I won't be accepting sinovac.. I will wait until the private hospitals buy moderna etc and pay for it.
-=-=-=-==-=-
Wayne T-
Just a crazy suggestion, (some may think) but I will put it out there anyway.
Why does the British Government/Embassy not offer a vaccination program for all British Citizens?
Or offer a facility for 'us' to get the vaccinations at a cost price from the UK. There are not that many British Citizens who permanently live here in Thailand, so what's the problem, apart from they can't be arsed I suppose that is.
-=-=-=-==-=-
Richard E.-A global pandemic should never be us versus them. This should have been decided by the international community when this started. Where was the global summit and information sharing?!
-=-=-=-=-==-
KRP N-The intention of the Government in Thailand is to eradicate Covid from the country. Therefore vaccination must be given to all people living in Thailand without fee irrespective of their nationality as if a single person with Covid can transmit this dangerous virus to many people. No discrimination should be there. However, the Government can receive donations from foreigners to cover up the expenses. Vaccination is the only long-term method to prevent this pandemic.
-=-=-=-==-=-=-
Ellwood-As the Thai government will not help its own people, some of whom are in dire need, then we as foreigners should not expect a free jab. On the other hand, there must be the following 1. It must be affordable ( enough to cover its cost ) 2. It must be compulsory, accompanied by a certificate. Those that refuse should be deported.
-=-=-=-=-==-=-
Geoff-YES, YES &YES to all above concerning vaccination. If my Government of Australia seems fit to contribute 68million baht to help out the ongoing concerns of Covid19 in Thailand, why are these repeated questions from this Government as they have stated all foreigners will receive vaccine free. But this Government does not know Arthur from Mather or yesterday from tomorrow.