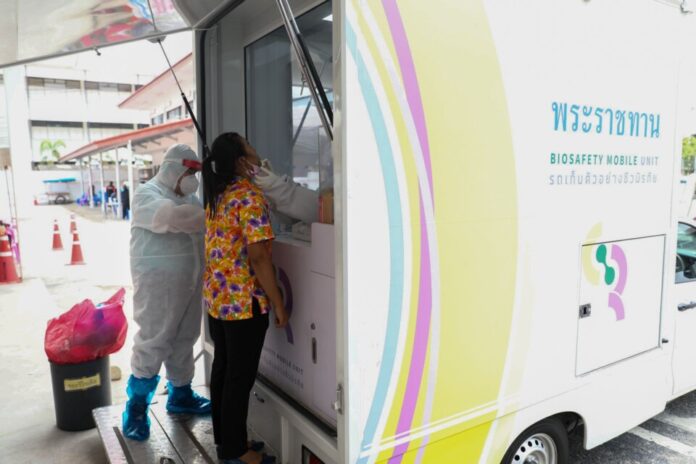 Thailand-
The spokesperson for the Center for Covid-19 Situation Administration (CCSA) in Bangkok this afternoon, Dr. Taweesin Visanuyothin, explained to the media how the CCSA was assigning provinces "color codes" based on Covid-19 risk.
The CCSA is expected to make final decisions on their current color-coding system tomorrow, May 15th, 2021, including around provinces that are currently in the highest level of restrictions and measures, called "Dark Red", which include Chonburi and the Bangkok area.  These decisions may also consider a slight relaxation on dine-in rules after continued pressure from the restaurant and agriculture industry.
According to Dr. Taweesin, these are the guidelines they are using to determine changes in zone status, which also control some of the restrictions and measures set by the Thai government to control Covid-19. It is worth noting, however, that governors can strengthen restrictions if they choose (like Chonburi has done with beaches and Bangkok with parks) but they cannot loosen them. No announcements on zone status is expected before tomorrow's press conference, which normally takes place around 12:30 P.M. Bangkok time.
The overall objective of the zones, according to Dr. Taweesin, is to reduce the economic and social impact. The current zones are "Highest control" (Deep Red), Control (Red), and surveillance. (orange). There are currently no "yellow" or "green" zones like during previous Covid-19 outbreaks in Thailand and some restrictions, like the closing of entertainment venues and no alcohol at restaurants, are the same across all zones. All five measures below are taken into consideration for zone risk assignments, just because a province doesn't meet one measure doesn't meet they will automatically be "dark red" etc.
1. Number of cases and infections in the local community. More than 100 new infections in one day within a week or an average of 50 patients or more a day would be "deep red."  20-50 patients a day on average in a week would be "red".  Below that would be orange or surveillance. These numbers could be adjusted, according to Dr. Taweesin, and were subject to regular review. Remember, however, this metric would be viewed in conjunction with the others below.
2.  Provinces adjacent to other provinces with major outbreaks.
3.  Provinces that have outbreaks in vulnerable or "high-risk" groups that could spread the infection easily.
4.  Provinces adjacent to the border areas and with a history of undocumented migrants.
5.  Proportion of population vaccinated. As more people in a province or area get vaccinated, a province can be downgraded.  Phuket, for instance, is progressing steadily here.
TPN media will keep you updated on this and all other developments as they are released.