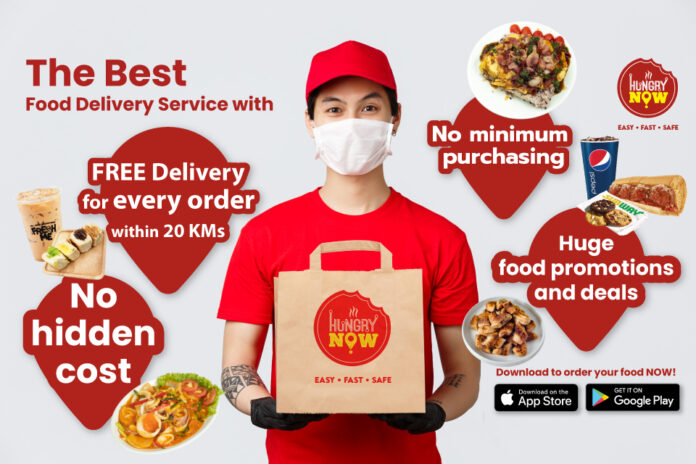 Chonburi, Thailand, 14th May 2021 – HungryNow, the first Thai food delivery startup, officially launches in Chonburi today as part of its expansion.
Today marks a big step forward for HungryNow as they expand from only the Pattaya and Banglamung area to all of Chonburi!
HungryNow launched last year in Pattaya during the first Covid-19 round of measures and restrictions in Thailand, focused around a safe, reliable, locally-operated delivery service. They managed to successfully build a strong brand and customer loyalty locally and are now set to expand across Chonburi province.
If you haven't heard of HungryNow, here are just a few reasons why to give them a try as they launch in Chonburi:
Free Delivery within 20 kilometers

– HungryNow is the only food delivery service in Thailand offering these long-distance free deliveries.

Locally owned and operated

. Unlike many competitors, HungryNow is based in the area with local management, customer support, and drivers. They know people dislike calling call centers located in foreign countries from massive delivery companies based internationally. If you call for support or help you are getting a local resident, just like yourself.

Easy, Fast, Safe, contactless, hygienic delivery

– HungryNow started during the pandemic and has only grown in how to properly and safely serve customers.

HungryNow offers hundreds of restaurants and is growing weekly throughout the province and area!

HungryNow customers are offering a 50% discount on their first order when they register with Hungry now and

they will consistently be given various assortments of promotions at every check-out.

HungryNow is providing much-needed jobs for Chonburi in a time when many people have unfortunately been put out of work due to Covid-19 restrictions and measures. These include drivers, customer support staff, office, and admin staff, and more.
Mikael Löfberg, Co-Founder and Chief Executive Officer of HungryNow, said, "Our aim is to bring benefit to everyone who uses our services, whether consumers looking for fast, competitive food delivery services, or drivers looking to secure additional income. HungryNow has a positive impact on thousands of people throughout Pattaya and we want more people to share in that benefit."
Mikael adds, "It is our understanding of, and commitment to, Pattaya that have enabled us to become the market leader here. The same will be true for our local teams in this new market. We can't wait to embark on this journey together."
HungryNow is your NEW food delivery partner to cure your morning breakfast and night dinner cravings. Their opening hours are from 8:00 AM – 9:00 PM, imposed as part of Covid-19 containment measures. 
To drive awareness among consumers in Chonburi, HungryNow is launching an extensive advertising campaign mainly through online and offline channels. During the launch period, users can enjoy up to 50% off from exclusive restaurants, every day from May 14 – June 30th. Discount vouchers code will be published every day on their social platforms Facebook and Instagram. 
The HungryNow app is available for download on the App Store and Play Store. You can also visit their website at https://hungrynow.co.th 
To stay up to date with HungryNow:
Like them on Facebook: https://www.facebook.com/hungrynow.chonburi
Follow them on Instagram: https://www.instagram.com/hungrynow.th/
Add them on LINE: https://lin.ee/BssQnUG
About HungryNow
HungryNow is a fast and reliable food delivery service connecting people with the best restaurants in the city. They do this by empowering local businesses and in turn, generate new ways for people to earn, work and live. 
They started by facilitating door-to-door delivery, but we see this as just the beginning of connecting people with possibility — easier evenings, happier days, bigger savings accounts, wider nets, and stronger communities.
HungryNow is headquartered in Bangkok, Thailand, and has the first branch office in Pattaya and the second in Chonburi. For more information, please visit https://hungrynow.co.th
Contacts
For HungryNow: marketing@hungrynow.co.th