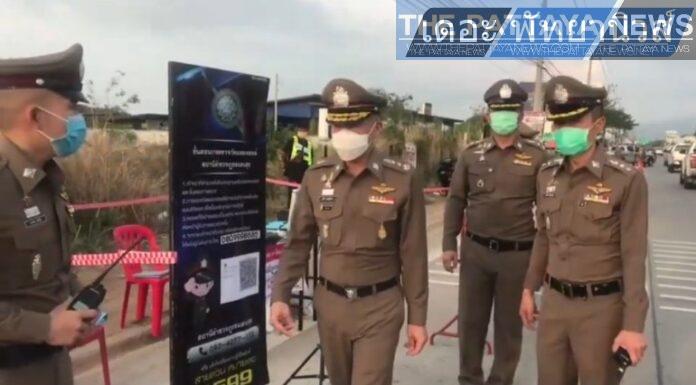 Pattaya, Thailand-
Multiple local residents of Pattaya have sent reports, copies of tickets, and concerns over being allegedly detained for Covid-19 related violations such as drinking in public, gatherings (even with as few as two people), and similar occurrences.
The Pattaya Police have not released an official recent statement, however, previously canceled drink driving checkpoints temporarily and under a National police order is ensuring that the Emergency Decree around stopping social gatherings taking place is a top priority.
The Pattaya News has been sent and informed of what appears to be multiple copies of tickets and fines from people over the past few days including:
-6000 baht for having a beer near Jomtien Beach alone
-4000 baht for sitting with one person outside of their condo, one person had an alcoholic     drink
-5000 baht for walking on Soi Buakhao with a beer from 7-11 alone
-20,000 baht for a group drinking on the beach who all live together
-6000 baht for not wearing a mask while bicycling.
We stress we have not independently verified every one of these claims but based on the evidence presented they appear to be correct. Pattaya Police have also stressed that any social gatherings or public drinking, especially partying and alcohol-related, is currently banned under the Emergency Decree.
Pattaya, as a tourist town, is traditionally "relaxed" on things such as public drinking or intoxication, however, due to the Covid-19 situation, it currently appears this not the case around the area. Police also seek to avoid repeating much-publicized incidents last year of certain area markets in Jomtien and Soi Buakhao becoming "hangouts" despite Covid-19 regulations, with people purchasing alcohol from 7-11 and "hanging out" nearby.
In reality, public intoxication and drinking laws have always been on the books in Pattaya and illegal, but rarely enforced. As for social gathering, it appears law enforcement is using emergency decree-related measures to enforce these behaviors.
The official "advice" from the Chonburi Department of Public Health is for people to stay home, work from home if possible, and only socialize with members of their own household at home.
Some readers have asked The Pattaya News about the legality of such tickets or enforcement around gatherings. We would advise those with such questions to direct them to a lawyer or legal professional.