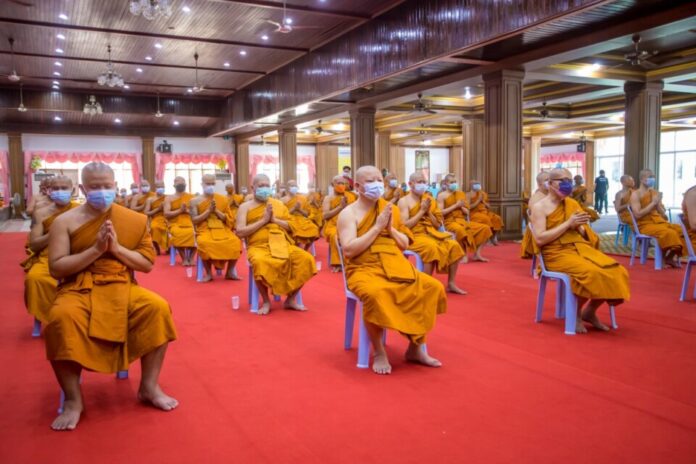 Pattaya, Thailand-
Dozens of monks came together (although socially distanced and with masks) at Wat Chai in Pattaya this week to, according to them, conduct a special prayer and ritual to disperse the Covid-19 coronavirus in Pattaya.
The temple was given special permission to conduct the ceremony, although numerous precautions were taken such as social distancing, mask-wearing, temperature checks, hand sanitizer usage, and other measures.
The prayer took place at 5:00 P.M. yesterday, May 11th, 2021, at Wat Chai located near Walking Street in Pattaya. The prayer brought together monks from multiple local temples in a group effort to conduct prayers and rituals to get rid of Covid-19 in Pattaya and allow the city to recover and business to reopen.
The ceremony was led by Chao Khun Phra Panya Rattanaporn and contained numerous mantras and rituals that the monks believe will help get rid of the coronavirus in Chonburi.
Photo credit: Amporn Saengkaew