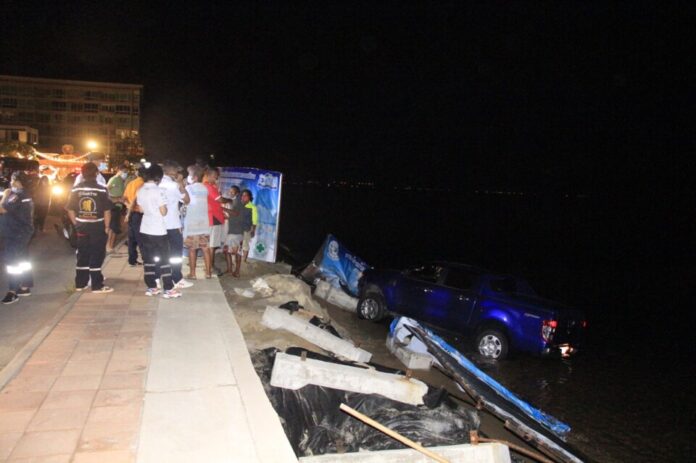 Hello Pattaya News Readers and Supporters!
The following is our weekly feature in which we highlight the top local stories in our area, Pattaya and Chonburi, for the past week. The number of stories differs from week to week.
These are chosen and curated by our editorial team and are designed for our readers to get a quick "catch-up" of important stories they may have missed as we publish many stories daily and it is easy to lose track of important events or changes in our area. We do national recaps in a separate article.
They are in no particular order of importance. These are from Sunday, April 25th, 2021, to Saturday, May 1st, 2021.
Let's get started and see what the top local stories were!
1. Driver ends up in the ocean in Jomtien
Although certainly not the biggest news story of the week this was one of the most widely commented, shared, and discussed.
Pickup truck plunges into sea in Jomtien, driver claims he was avoiding colliding with motorbike
2. Chonburi becomes a dark red zone
As residents are well aware, Chonburi was reclassified to a "dark red" zone by the Thai Government last week, shuttering dine-in at restaurants and seeing other new measures, like stricter rules on the beaches and checkpoints go up in the area.
Thai Covid-19 center meeting approves stepped up Covid-19 control measures and readjusts "Dark Red Zones" in six provinces, including Bangkok and Chonburi, effective this Saturday
3. Homeless situation increasing in Pattaya
Similar to last year, the numbers of homeless are increasing say local homeless advocates in the Pattaya area, due to the economic hits of Covid-19.
4. Police raid private villa birthday party, arrest dozens
A reminder that even private parties and gatherings are currently illegal under the Emergency Decree to control Covid-19.
Pattaya and Banglamung police raid private villa birthday party for allegedly violating Covid-19 rules, arrest 28 people, 25 foreign nationals and 3 Thais
5. Rotary Club of Pattaya holds peace art competition at Central Festival
The socially distanced art exhibition runs on the sixth floor until Thursday this week, you have a few more days to get in there and vote for your favorite art designed by talented students from 11 local schools competing for cash prizes to promote peace in Pattaya.
Rotary Club of Pattaya and students from eleven Pattaya schools hold Peace Art Exhibition at Central Festival
That is all for this week, thank you for your support and please be safe.