Chonburi, Thailand–
The Chonburi Department of Public Health announced 106 new and confirmed cases of Covid-19 this morning (May First).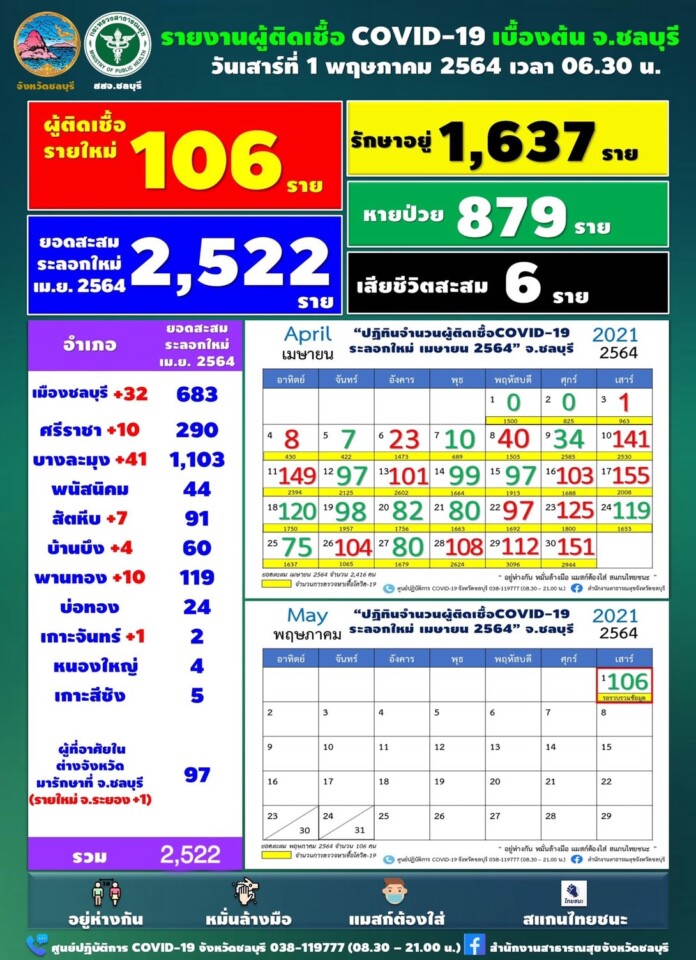 This makes a total of 2,522 cases of Covid-19 in the current round of infections, with 1,637 still in medical care, with six recorded deaths in Chonburi since the start of this recent round of infections in early April. Two additional deaths were recorded in the last 24 hours.
-=-=-=-=-=-=–=-
Additionally, 879 people in total have now been released from medical care and fully recovered in Chonburi since this current wave began with over a hundred people recovered yesterday alone.
-=-=-=-=-=-=–=-=-
The district-level new cases were as follows today:
Mueang Chonburi with 32, Si Racha 10, Banglamung (Pattaya) 41, Sattahip 7, Ban Bueng 4, Pan Thong 10, and two patients from other areas transferred to Chonburi for medical care.
-=-=-=-=-=-=-=-=-=
The details on today's cases given were:
1. 17 confirmed patients from entertainment venues in Chonburi province, namely 1.1 4 STEP PUB 4 people 1.2 Flintstones Pub from Mueang Chonburi 3 cases 1.3 Kitchen Lao 2 people 1.4 Insomnia 1 person 1.5 Version Pub Pattaya 1 person 1.6 Friend Zone 1 person 1.7 5 other entertainment venues in Pattaya
-=-=-=–=-=-=–=-=–
2. 16 people who were close contacts from previously confirmed patients in other provinces and then traveled: 2.1 Bangkok: 1 person 2.2 Samut Prakan Province, 4 cases 2.3 Chiang Mai Province: 3 cases 2.4 Samutsakorn Province: 2 cases 2.5 Pranakorn Sri Ayudhaya 2 cases 2.6 Chanthaburi Province: 2 cases 2.7 Nonthaburi: 1 person 2.8 Rayong Province: 1 person 3. 1 medical personnel 4. Under investigation 72 cases
The details on the two additional deaths were not given.
-=-=-=-=-=-==-=-
In the last day, a total of 272 close contacts were being tested from contact tracing, and 1418 people were being tested in proactive testing when medical staff goes out into the community. All are pending results. Additionally, another 797 people were tested from mobile testing vans and are also waiting for results as officials step up aggressive community testing.
-=-=-=-=-=-=-
Chonburi officials are asking people to continue to stay home, socially distance, and follow other Covid-19 related measures to control the situation. Chonburi officially becomes deep red according to a government zoning program based on Covid19 cases today, which brings additional restrictions for at least two weeks such as the closure of dine-in at restaurants.
Read more on this here:
Thai Covid-19 center meeting approves stepped up Covid-19 control measures and readjusts "Dark Red Zones" in six provinces, including Bangkok and Chonburi, effective this Saturday
-=-=-=-=-=-=-