Thailand-
Yesterday, April 30th, 2021, the Australian Embassy announced that Australia had given Thailand 68 million baht (About 2.8 million USD) to support Thailand's vaccine program and to help Thailand vaccinate the country faster.
According to the Australian Embassy, this was to overall support the Australian government's plans to provide widespread vaccine access and better global security, specifically pointing to Thailand as a global hub in Southeast Asia and the importance of Thailand being able to safely reopen Bangkok and the country for travel. The announcement was made on the Australian Embassy's Thai Facebook page.
The reaction online, however, notes TPN media, was mixed. Many Australian citizens commented that they were not happy that the large donation of financial aid was taking place while they were unable to get vaccinated, pointing to the fact that currently there was no plan to vaccinate Australian ex-pats in Thailand. Some stated that they believed the money could be better spent to ensure the health and safety of Australian ex-pats. Foreigners currently cannot register for a Thai vaccine unless they are a Thai citizen or have a "Pink Card" which the vast majority of ex-pats do not have. Thai authorities say foreigners will eventually be allowed to get a vaccine, but have not given a timeline or more details.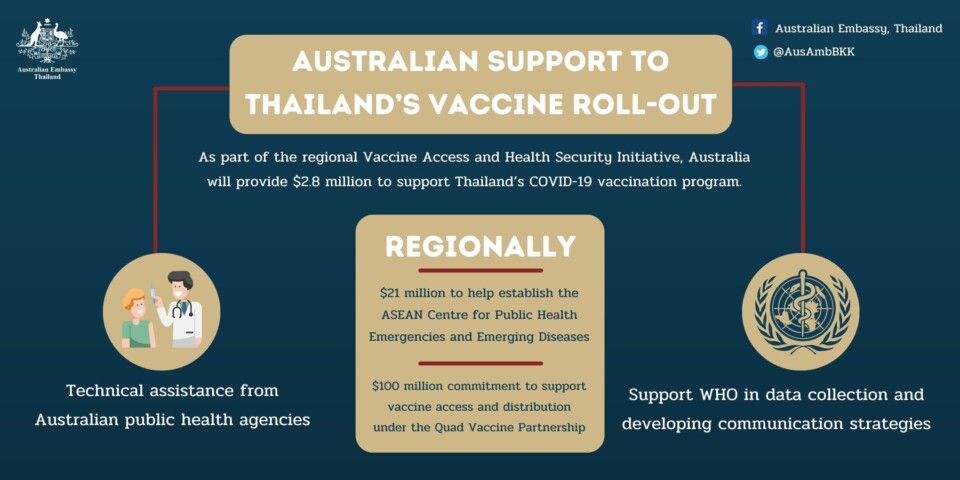 The money, according to the Australian Embassy, will primarily be used for what was called "technical assistance" with the rollout of the vaccines, without giving specific information.
Photo credit Australian Embassy Facebook.