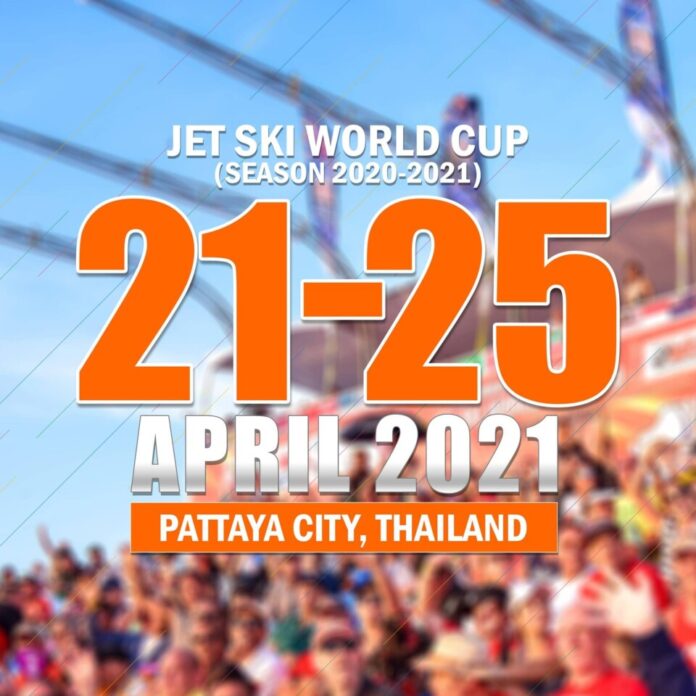 Jomtien Beach, Thailand-
The long-delayed Jet Ski World Cup will take place as planned from April 21st to April 25th, but the organizers announced this afternoon that no fans will be allowed on site despite having previously built elaborate grandstands.
Despite the lack of fans, the entire event will be live-streamed online and you can view it HERE. And, yes, you can likely see it from a distance on Jomtien Beach, although organizers have said they will not be allowing fans in the grandstands and will be stopping people from gathering in crowds around and near the race site. The event had previously been delayed due to Covid-19 and racers have come in from around the world and done quarantine to participate in the major Jet Ski event.
Although not on the schedule here, novice runabout stock riders will start qualifying on April 21st, Wednesday, which officially begins the event. There are also still some market vendors that will be selling officially licensed products in and around the event site near Jomtien Night Market, with social distancing precautions. There will also be boats and Jet Skis on display on Jomtien Beach Road.
The event this year is almost entirely focused on racing and popular "extra" events like "pretties (models), bikini contests, stunt and freestyle shows, DJ nights, beach parties, and similar events are all not taking place this year due to Covid-19. The finale and pro racing event, the highlight of the event, takes place Sunday afternoon.
Organizers are encouraging fans to safely live stream and watch the event from home due to the Covid-19 situation. Once more, the link for that and schedule is here.
Photo Courtesy Jet Ski World Cup