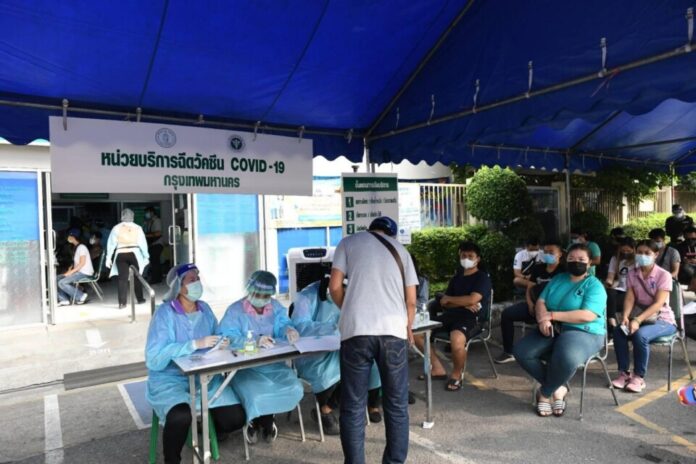 Chonburi, Thailand-
The Chonburi Department of Public Health announced 101 new confirmed cases of Covid-19 this morning in the province.
This is four more cases than yesterday although is not a dramatic increase. The province is waiting for results for another 1,792 people who were tested in the past day for Covid-19.
Province count is as follows: Mueang Chonburi 26, Si Racha 14, Banglamung (Pattaya area) 38, Phanat Nikhom 6, Sattahip 2, Ban Bueng 1, Pan Thong 1, 11 people from outside of Chonburi brought for treatment, Bor Thong 1, Nong Yai 1.
There were 7 cases from a cluster at the Flintstone pub in the Don Hualor sub-district of Mueang Chonburi (since April 6th, 2021, total of 132 cases from this venue). Here is the list of the other cases below. Please keep in mind this is the only information released by the health department, we aren't given more specific details.
Cetus Pattaya, 6 people
Friend Zone, Rayong, 8 people
The Box 69, Pattaya, 6 people
The Class 99, 1 person
Top One Ratchada, from Bangkok, 1 person
Voice Bar Sriracha, 2 people
People who visited entertainment venues in Bangkok, 2 cases
1 person who was a close contact of 2 patients who visited Symphony Sriracha.
10 People who were close contacts of 2 patients who visited Infinity Sriracha.
Four close contact persons and family members of prior cases infected with COVID-19
One person who went to the Bangkok motor show
In the process of investigating their timelines, 59 cases
Authorities are asking for people to stay home if possible, wear masks, socially distance, remain calm, and follow other Covid-19 precautions.