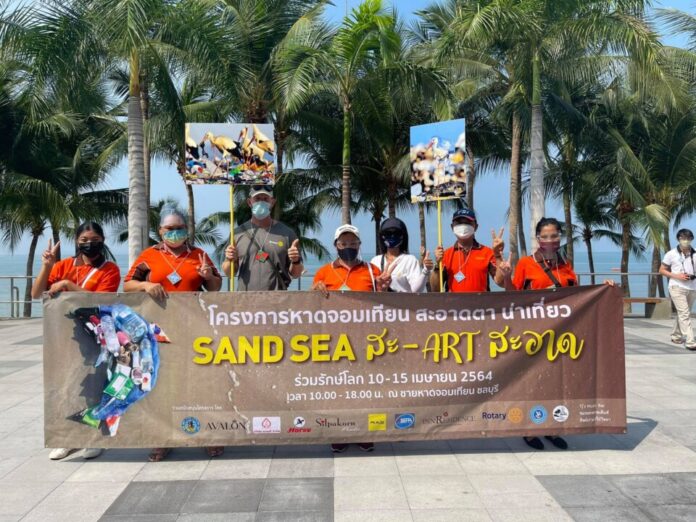 Jomtien Beach, Pattaya, Thailand-
Several different groups of local residents, both ex-pats and Thai nationals, came together over this past weekend to support a great cause-keeping Jomtien Beach beautiful and encouraging people, especially during the Songkran holiday when domestic tourists will be visiting the area, to keep the Beach clean and properly dispose of their trash.
The kickoff for the event, which will be running throughout Songkran week with several walks by volunteers and participants from the Sand Sea group both in the morning and afternoon, took place at 9:30 A.M. on Saturday, April 10th, at the police station at the Dongtan police booth.
The event was attended by Pattaya City officials, Chonburi Province officials, staff from the Sawangboriboon Thammasatthana Foundation, Pattaya Sawangboribun Rescue staff workers, Association of Reporters and Technicians staff, multiple companies, individuals, and groups such as Guevaron, Archieha, Nanmee Co., Ltd, Horse brand school supplies, Silpakorn, Flash Express, In Residence Serviced Suites, The Pattaya News, Jomtien Baptist Church, Rotary Club, Tj's Music Bar, Dongtan Club, Alumni Mary Wittaya Nakhon Ratchasima, and Ajarn Chalerm Srichaimongko.  Additionally, several groups and individuals who wished to stay anonymous but support the cause also joined the kick-off event and will be assisting throughout the week.
The concept of the event is to encourage clean and sustainable tourism and encourage people to properly dispose of the trash while separating garbage properly, especially in terms of recyclables. This helps promote ecotourism and keeps Jomtien Beach clean and attractive which helps encourage additional domestic tourism to the area.
An activity booth is set up daily all this week, Songkran week, from 1:00 P.M. to 4:00 P.M. at Jomtien Beach opposite the Jomtien Baptist Church which will be taking trash collected and turning it into artwork, helping sustain the environment. Additionally, interested individuals can learn more about protecting the beach and the environment.
Students from the Chonburi area, Beach bed operators, the multiple groups and individuals listed above, ex-pats, local residents, and more have all come together for this cause.
Let's take a look at some photos from the kick-off event and you can take your part by ensuring if you visit the beach you properly dispose of your trash or visiting the activity booth across from Jomtien Baptist Church all week.