Pattaya, Thailand-
Last night, March 28th, 2021, the Pattaya News had the pleasure to be invited by the Indian Community of Pattaya Thailand to a special Holi festival celebration held at the Maa Kali temple in the Pattaya area.
The event was held under Covid-19 precautions and included hand sanitizer, limiting crowd sizes, mask-wearing, and other measures. Despite this, the atmosphere was joyous and happy with dozens of participants enjoying the celebration. Holi is actually a two-day event and began yesterday, March 28th, and will continue through today March 29th. Due to Covid-19, there was only a "light touch" to using colored dry powder style paint whereas, in a normal year, similar to Thailand's water festival, it can turn into a rambunctious throwing of powder, and even in some areas of India include water and water balloons.
That being said, there was more than one happy face in the crowd with an assortment of dry-colored powder, although this was an opt-in activity and saw many different levels of powder usage.
Holi, also known as the festival of colors, celebrates the end of winter, the beginning of spring, the triumph of good over evil, and is also the festival of love. For many who attended the event, after a difficult year due to the Covid-19 pandemic, the event was a chance to hopefully place that behind them and move forward to a brighter and happier future. You can learn more about Holi in general by clicking here.
The first night, which is called Holika Dahan, saw a ceremonial burning that represents the power of devotion over evil. You can learn more about this ceremony by clicking here, our pictures of the burning are below.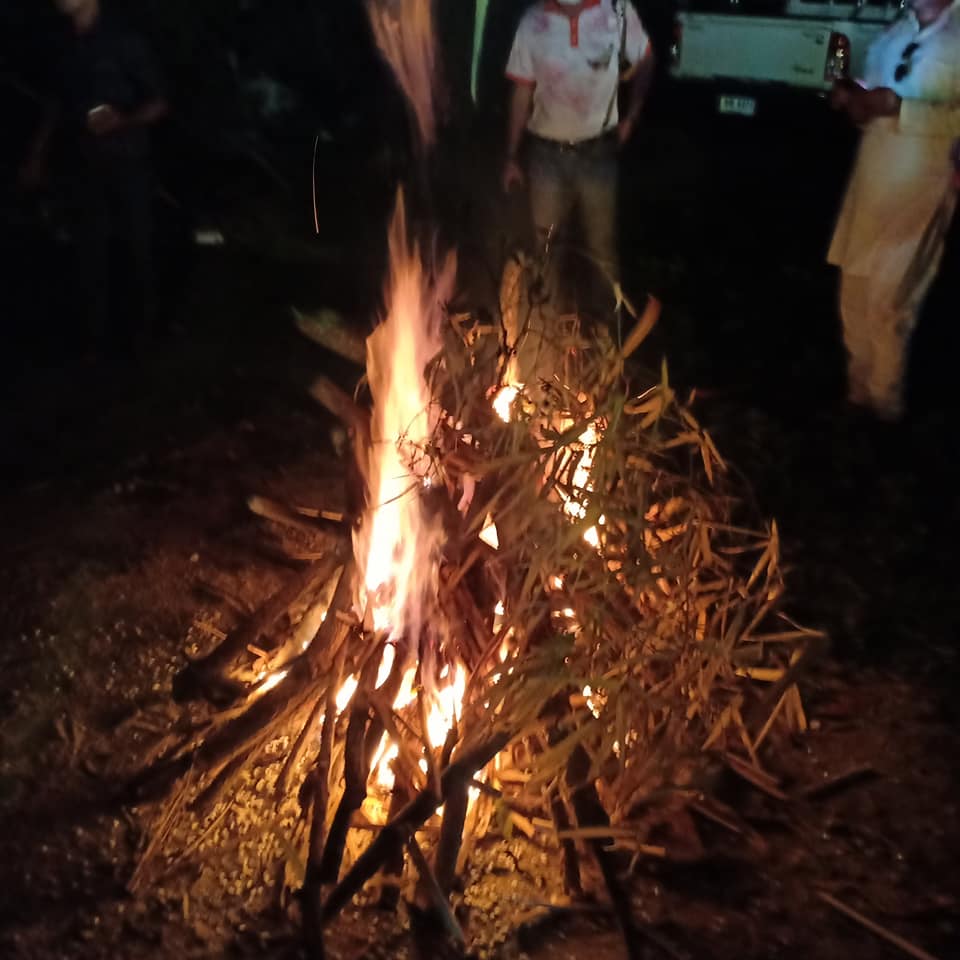 The event had several live music performances and live DJs (DJ Holi and DJ Smoke) that kept the crowd entertained as well as a tremendous assortment of delicious vegetarian food, complemented by tea, as the event is an alcohol-free event and took place at a Hindu temple, Maa Kali. Maa Kali is located near the Pattaya Shooting Park, past the Floating Market, on Mintra alley.
Although Holi is a two-day event, the primary event was held last evening, primarily due to Covid-19 precautions as the second day of the event is the one in which, by tradition, the majority of dancing, powder throwing, and other entertainment takes place.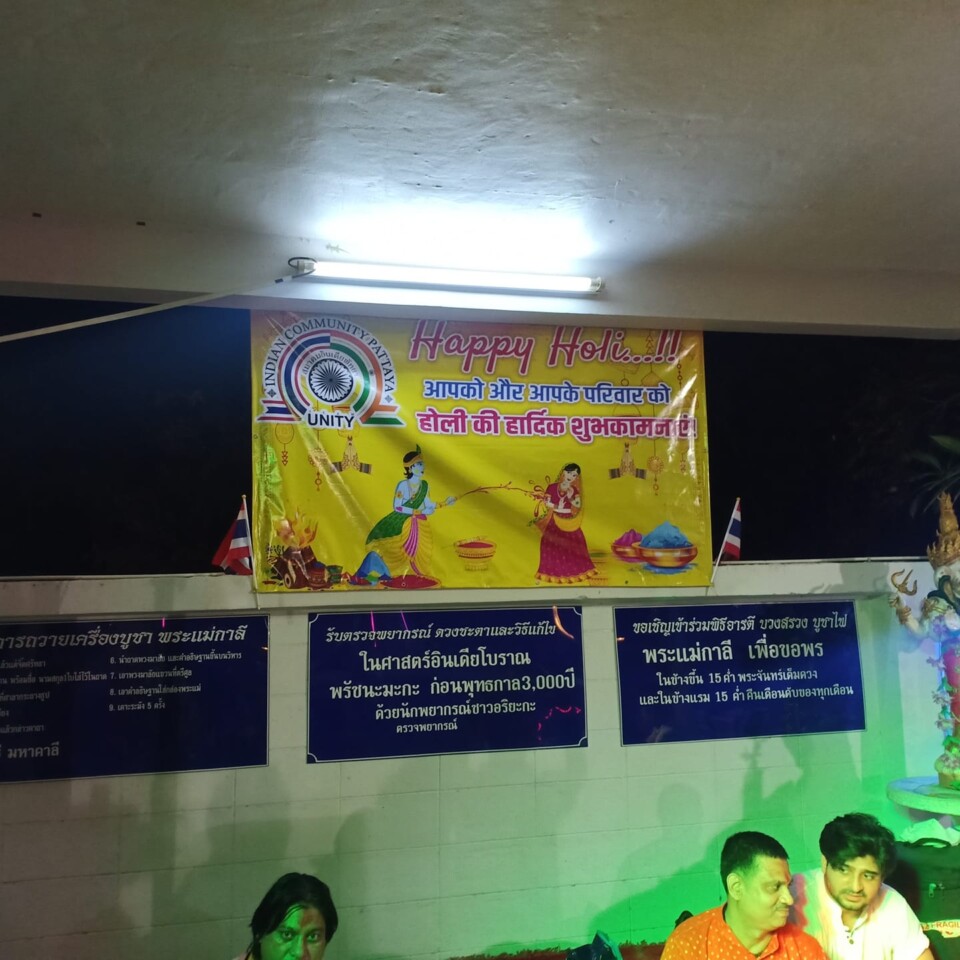 The Indian Community of Pattaya, according to a statement by member Naresh Chander, is devoted to assisting and helping all Indian nationals in Pattaya and Thailand and has provided significant assistance for Indians both before and during Covid-19, especially those who may have run into unforeseen problems. The organization expresses unity, peace, and love for each other as human beings.
The Maa Kali temple hosts a large local diverse Hindu population who help take care of the temple and its grounds, which is a beautiful "hidden gem" in Pattaya. Here is a good map to find the temple in Pattaya if you wish to visit yourself.
The Pattaya News wishes a very happy Holi to all of our readers, wherever you may be in the world, and for those who have spent a very long year unable to visit due to Covid-19 precautions, may you all be able to rejoin us in Pattaya later this year.
For more information on the Indian Community of Pattaya please send them an email to Indiancommunitypattaya@gmail.com or visit their Facebook here:
https://m.facebook.com/%E0%A4%B6%E0%A5%8D%E0%A4%B0%E0%A5%80-%E0%A4%95%E0%A4%BE%E0%A4%B2%E0%A5%80%E0%A4%A7%E0%A4%BE%E0%A4%AE-%E0%A4%AA%E0%A4%9F%E0%A5%8D%E0%A4%9F%E0%A4%BE%E0%A4%AF%E0%A4%BE-106129338194140/