Jomtien Beach-
A viral video and series of photos shot by an anonymous "concerned citizen" over the weekend on Jomtien Beach sparked an intense debate on Thai social media, including our own Thai version of the Pattaya News.
The debate, however, was not so much centered on a relatively very minor offense, but rather if grilling should be allowed in perhaps a set location on local beaches.
The photos and video were posted on popular Thai social media groups where they quickly went viral with widely mixed opinions.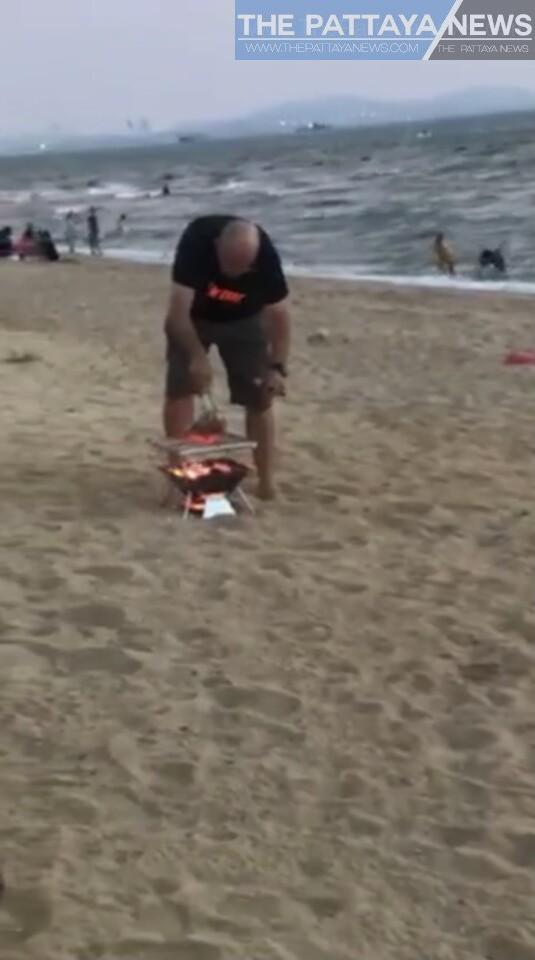 The photos and video appear to show a foreign national, whose identity is unknown, grilling on a small grill on the beach. The man appears to be with several Thai and foreign nationals in a group near the Pizza Company restaurant on Jomtien Beach at sunset over the weekend.
Municipal Law Enforcement confirmed to local Thai media they had seen the video and photos and confirmed that the act was illegal but did not state if they were planning to look for the man or file any charges, which seemed unlikely. They also stated had they seen the act taking place they would have likely initially given a soft warning that the act was prohibited.
The photos, however, despite being a relatively minor offense, sparked major debate on Thai social media with some condemning the man and comparing the activity to smoking on the beach, believing it causes pollution and disrupts other visitors.
However, another large group of Thai nationals asked why the act was banned and pointed out that in many countries there are specific BBQ areas where grilling is allowed and people can have picnics and eat together but not disrupt others on the beach.
This sparked debate and discussion on Thai media about why Pattaya and Jomtien Beaches don't have a BBQ or picnic area…and even if they should.
What do you think? Should Pattaya City consider a grilling area for people on local beaches, similar to a smoking area? Tell us in the comments.