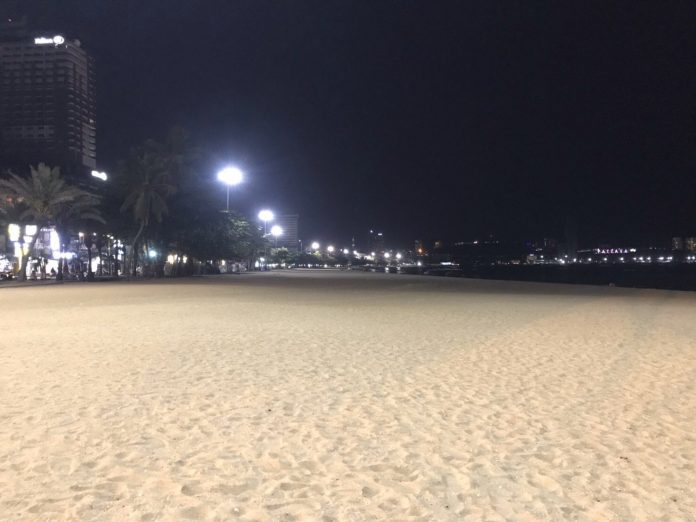 Thailand-
The following is a new feature, only started last month, that will join our other recurring weekly features like Reader Talkback, Editorials, A look at the week ahead in news, and recaps of top national and local stories.
This new section takes a look back at news from the same period last year (and sometimes different time windows, such as six months or three months) to see how things have changed, following up on the progression of stories, as well as look at potentially broken promises or things that didn't take place in Pattaya and Thailand.
As we publish dozens of stories a week this is a quick way for people to take a look at what the biggest stories were a year ago, as chosen by our editorial team, and how they impact us today and relate to current news. They are in no particular order of importance. This week, we cover the third week of March 2020.
This particular week last year was a historic one: Bars, entertainment venues, and other places were closed for "two weeks" due to Covid-19, which later became a full-scale shut down of all non-essential business and led to a nearly four-month closure for Pattaya's famous entertainment venues.
1. All schools, including private, closed nationwide
This was just a precursor to a much larger shutdown that would follow in the next few weeks of nearly everything except essential stores like grocery stores and pharmacies.
Thai Education Minister decides to close all schools, including private, nationwide starting tomorrow
2. Pattaya entertainment venues close for "two weeks"
Although we covered this last week a bit in advance, this same day last year, March 18th, 2020, was the first of a "two-week" shutdown that later became almost four months for Pattaya entertainment venues due to Covid-19 concerns. As restaurants remained opened it also led to many people using restaurants as bars for several weeks and resulting in complaints and issues until restaurants were also closed for dine-in a few weeks later.
Pattaya to close all entertainment venues, such as bars, nightclubs and massage shops until the end of the month
3. Restaurants warned they were not supposed to be "bars"
The city grappled with what would become a problem as many bars with food licenses attempted to stay open and legitimate restaurants struggled on what to do if someone only wanted a beer. Meanwhile, authorities held raids even though messaging was inconsistent. The tension was also high as bars that had been forced closed clashed with restaurants that could stay open online with many reports of "concerned citizens" calling on venues still open, etc. A simple look at comments from articles last year could see that some people felt that calling out venues "skirting rules" was the right thing to do while a vocal audience disagreed.
Pattaya Police warn local restaurants-you are allowed to open but if you flaunt the health guidelines set and allow crowds, you will be closed
4. Thousands pour into Koh Larn with all entertainment venues closed
The news was full of all the people rushing to the beach with nothing else better to do, which led only a few days later to Koh Larn being closed and a few weeks later to a highly controversial beach closure that lasted months.
As Pattaya City quiets down with entertainment venues temporarily closed, thousands visit Koh Larn
5. Chonburi shuts more venues, restricts beach usage overnight
As the days passed and things appeared to be getting more serious with Thailand announcing more cases daily, Chonburi shut down pretty much all entertainment activities on March 23rd, about a week after they shut down bars, nightclubs, massage parlors, etc. This showed people the situation was not "normal" as for the past week many had been out and about minus the bars. This order also shut down swimming pools which led to months of angry condo owners debating the issue with their condo management as the order closed public pools and some condos that considered their pools private stayed open, although the majority closed.
Chonburi Governor officially signs closure order of additional places to stop Covid-19 spread, asks for people to stay off the beaches from 8PM to 6AM, market restrictions
6. American man arrested for public disturbance near Avenue shopping mall
This particular incident showed that not everyone was handling the Covid-19 situation well. The man would later be arrested several more times, including at a highly publicized incident at the US embassy, before finally returning to his country later in the year.
American man arrested after public disturbance in Central Pattaya screaming about the Coronavirus, had a tazer and gun shaped lighter with him
7. Pattaya City releases detailed reports on Covid-19 situation
This would begin a trend of very transparent and regular reporting from Pattaya City on the disease, which would also lead to intense contact tracing and tracking which many believe helped control the disease in Thailand and Pattaya.
Pattaya City releases very detailed report in English on Covid-19 situation in Pattaya, highlights here
8. Pattaya Police clear area beaches as many continue to gather with nearly every other venue for entertainment closed.
Pattaya Police were kept busy the week after the closures as many people, determined to still relax and party, had to be dispersed from parks and beaches.
Pattaya Police clear Pattaya beaches and tell people to go home as Governor's night time closure request takes effect, will use other laws on the book to do so
9. Koh Larn votes to close the island to all visitors
After a week of the island residents becoming more nervous as thousands of tourists, bored with everything being closed, were coming and going to the beaches, the island was shut.
Koh Larn residents vote yes to close island to all visitors to protect island, will be presented to Pattaya Mayor and Chonburi Governor for review
10. Emergency Decree is set to begin
One year later, it is still in effect.
Government to declare emergency decree to stop Covid-19 Coronavirus spread on Thursday
That is all for this week, we hope you enjoyed the trip back in time!