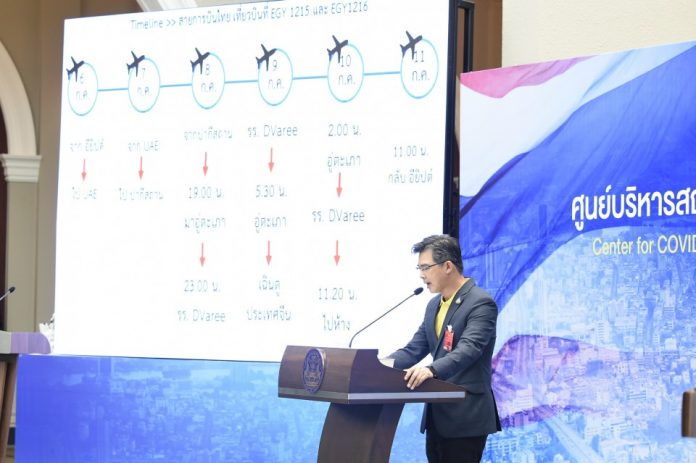 The following is our weekly feature in which we take a look at stories to watch and things to keep an eye on ahead of the next week in news. This allows our readers to know the biggest stories and developing news and what to look out for over the upcoming week in Thailand. We also will cover Pattaya-related developing stories when it applies.
1. Big decisions to come over Songkran "entertainment"
For the past week headlines on multiple media websites, including ours, have been covering the tense discussions and debates at top levels of the Thai government over how to handle the Songkran festival next month, the single biggest holiday of the year for Thailand and their New Year festival. The popular holiday, also referred to as the water festival, draws in large amounts of tourists both domestic and foreign yearly, although due to Covid-19 borders remain closed in Thailand without quarantine. (See point 2)
However, despite an improvement in the Covid-19 situation in Thailand authorities have a no-win decision to make this week. Without the famous wild water fights, concerts, drinking, parties, and other activities the already hard-hit tourism industry and entertainment industry will take another significant hit. However, if allowed, even with strict rules, many officials fear they will not be followed once people start drinking. If banned, however, authorities question how it would even be enforceable. Some of the plans call for "water play zones" that would require a check-in, temperature checks, face masks, with "social distancing" monitors…but in reality, would all this happen? Other proposals called for goggles, face shields, and raincoats…another likely unenforceable idea.
While many local ex-pats despise the event (evident from the comments on our social media) most can't argue that businesses could badly need the income. However, if the event led to another round of Covid-19 infections and possibly having to re-introduce restrictions that could completely shut business again for a period of time, would it be worth it? As a note, Pattaya's Wonder Wave Songkran event at Ramayana HAS been approved but it will be much easier to manage a controlled socially distanced concert than the wild regular fights on Pattaya Beach…which so far Pattaya intends to continue with.
Anticipating the government to likely admit it would be impossible to "ban" water play, Buriram, Khon Kaen, and others announced this week, following Pattaya, that they will be holding Songkran festivals, hoping to take advantage of the longest holiday of the year, six days in total, from April 10th-April 15th.
An initial decision is expected tomorrow, but a final decision and announcement will probably not come until a major Center for Covid-19 Situation Administration (CCSA) general meeting with relevant agencies on Friday, March 18th. Relevant related articles are below:
Face-shields, goggles and raincoats to be "required" for Songkran water play? Culture minister discusses Covid-19 precaution proposals in Thailand
Pattaya to host "Wonder Wave Songkran-Wanlai Pattaya Thailand", first and biggest social-distancing music festival in the world
Bangkok meetings on Songkran lead to strong, differing opinions by officials on what should be allowed this year
Thai Government to hold major meeting next Monday, March 15th, around Songkran, adjusting Covid-19 zone status, quarantine length and more
2. Decision on reducing quarantine for visitors from many countries expected this week
As stated above, and in the related article directly above under the Songkran discussion, this week the CCSA and Thai Cabinet are set to take up a proposal from the Ministry of Public Health to reduce quarantine….a much-awaited move from many potential visitors. Although any consideration to remove quarantine entirely would likely be quite a ways off (potentially October, see 3) this would be a first gradual step to re-opening the country to tourism. Here is what we know about quarantine so far and what they will be discussing. We could hear a decision on this as early as tomorrow, March 15th, but more likely at the end of the week.
Everything we know so far about a proposal to reduce quarantine for vaccinated visitors to Thailand that was announced this afternoon
3. Could we get a more long-term road map on a proposal to re-open the country in October for high-season?
It's set to be discussed, but too early to tell….although seven months is quite a ways away, there is already tense discussions brewing between multiple agencies and different interests. Some believe October is too far away. Some even believe that it will be too soon. So far, however, Thailand seems set on finding a way to open, at least to vaccinated tourists, by October with no quarantine. That doesn't mean it is promised, set in stone, or guaranteed of course but giving a goal to reach and giving tourism businesses time to prepare will be essential. The infrastructure of the tourism industry has nearly collapsed in many places and will have to be re-built and relaunched before any general opening.
Thai Government aiming to October to "open the country" but will depend on many factors, say Center for Covid-19 Situation Administration
4. Could Chonburi (Pattaya) finally become a green province once again in terms of Covid-19 risk zones?
In a week of big announcements, this is also a big one for those already here. The hope from many business owners is that Chonburi will be officially designated a "green" or surveillance zone, for Covid-19. Chonburi is currently a yellow zone, which is high surveillance. The CCSA will be reviewing all provinces and their "risk status" for the virus this week. With very few cases and no signs of potential clusters or issues in Chonburi, the hope is that the province will be downgraded, which could "possibly" see the strict midnight closing rule go away and also encourage more domestic tourism. It would also allow Chonburi to hold larger events, such as the planned Songkran festival. Look for this announcement possibly tomorrow, March 15th, but also possibly as late as Friday.
5. St Patrick's Day is here! Wednesday, March 17th should see many smaller events and parties in Pattaya
Although the larger city-wide St Patrick's events will not place this year due to Covid-19, many local bars, restaurants, and entertainment venues are holding their own smaller St. Patrick's Day events. As Ireland is still in a strict lockdown with pubs and bars closed, those who are here in Pattaya, Bangkok, and Thailand should rejoice that they are able to hold events here and enjoy the holiday. We will have coverage on the event mid-week!
That's it for this week, although another possible major announcement to look for will be possibly ending the emergency decree and re-introducing Communicable Disease Laws, which have been strengthened. This would be particularly important for Pattaya as it would allow Pattaya's special administrative zone rules to come back into effect, suspended for almost a year now under the Emergency Decree to control Covid-19. These rules give a lot of leeway to Pattaya, but the biggest one would be to officially allow later closings once more in the wee hours of the morning, something that would strongly benefit nightlife operators.
Thank you for reading and supporting us!