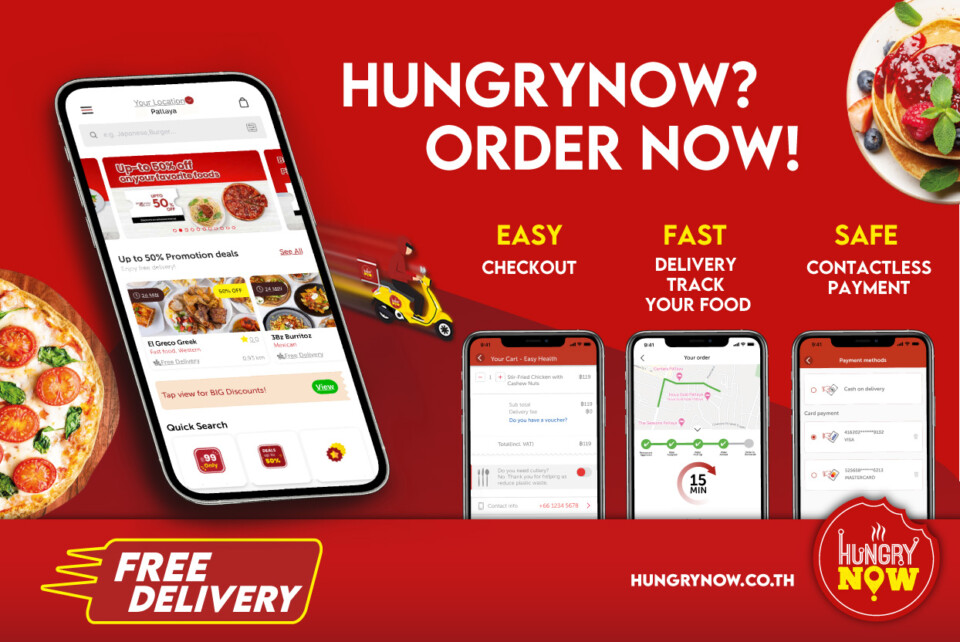 HungryNow improves their phone applications, makes service simple, easy, and understandable for all levels of users
Disclaimer: The following is a sponsored post by HungryNow, a business partner of The Pattaya News. Statements their own.
  HungryNow, a food delivery company based in Pattaya, has been around for roughly a year now, making a big impression in the Pattaya area, having started just as Covid-19 began to make its impact felt in the area around this same time last year.
  Many of you may recognize the brand from their advertising, banners, and other materials both on websites (like ours, on the top and side banners!) and on various signs around the Pattaya area for those in town. In fact, we bet many readers may have even tried them before over the past year, perhaps during the lock-down that took place last year, or even afterward.
  What you might NOT know is that significant changes, upgrades, improvements, and overall ease of use measures have taken place to the application over the last year, with a recent update that just took place this month, March 2021, providing significant changes meant to make the user experience less painless, easier, simple, and understandable.
  First, if you haven't heard of HungryNow or want a refresher on what makes them different, click here for more information directly from them. 
  On top of their application improvements, HungryNow is locally operated in Thailand and Pattaya, not from a "large overseas company" and has support staff who speak English and Thai who live right in Pattaya, not working in a call center overseas and who understand the local clients and area. Management and support center staff work directly with local drivers and aren't in different countries like some delivery companies, able to easily work together to resolve any potential conflicts. Plus, it's affordable and fast.
  Did you know they offer FREE DELIVERY every day in Pattaya, making them the cheapest local food delivery service with many promotions, discounts, and offers?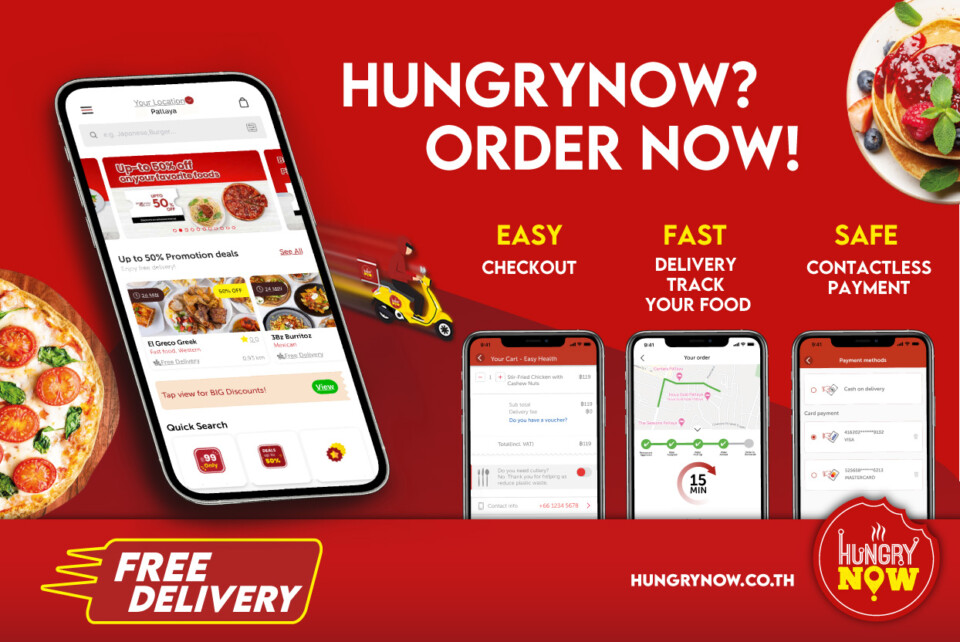 Now, let's take a look at some of the improvements and changes over the past year to the iPhone and Android phone applications for HungryNow:
  -Significant number of new restaurants added. This includes Thai and International flavors. We here at The Pattaya News do a lot of driving around town for our news broadcasts and have noticed many new banners up in front of new restaurants ourselves. Despite the lack of foreign tourists and the ongoing Covid-19 difficulties, many restaurants are opening nearly weekly in our area and relying on HungryNow to help get the message out. They now have hundreds of restaurants and add around 100 new per month!
  -HungryNow, as briefly stated, currently has hundreds of restaurants and is adding roughly a hundred more a month, aiming to be the largest selection of restaurants and choices in the area.
  -A major redesign of the overall user interface of both their Android and iPhone applications, driven based on YOUR opinions and feedback.  HungryNow heard their users loud and clear on pain points and hope to have resolved that overall.
  -An improved search filter allowing users to choose their favorite types of foods, not just restaurants, based on regular user feedback.
  -March vouchers available for all users and not just a limited number of users like some other companies. 
  -Vouchers can be saved at checkout and chosen easily, not making the process overcomplicated.
  -The ability to see current promotions and discounts has been improved, making them prominent and easy to select and view.
 -Optimization of the overall performance of the application making it smoother and easier to use and less memory intensive, based on user feedback.
  -Improved order tracking, one of the most requested features, after checkout, along with improving the overall ability to contact drivers and/or support center staff for any assistance that a customer may require
  -Fewer steps that one has to take to order, making the process simple and easy.
  -Improved ease of use for multiple languages, especially Thai, recognizing that not all of our customers may be as technologically skilled as others.
  There are even more features, improvements, and changes made but rather than continue to list them, what about trying yourself today, seeing the new restaurants. and places out there that may have opened up since the last time you used HungryNow and taking place in the March voucher program and see for yourself!
 Click HERE to try HungryNow! You never know what great offer or promotion is taking place, so don't wait!