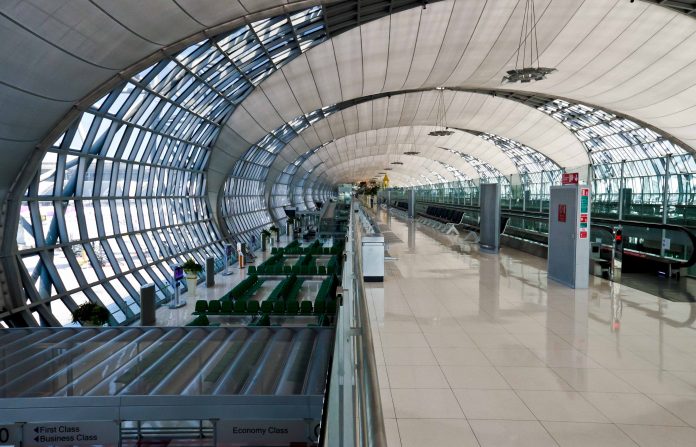 Editor's note: The following is a submission from one of our readers who offered to share his recent experiences of going through the alternative state quarantine process and other requirements to enter Thailand recently and is currently wrapping up his quarantine period. He shares this to hopefully give others an idea of the experience. His thoughts, photos, and opinions are his own. This is PART THREE. Part one can be found here. Also, part two can be found here. This continues directly from part one and part two, we suggest you read that first.
The plane landed at Suvarnabhumi Airport in Thailand on time and then I realized I made a mistake with my clothing. A few Thai people changed clothes as we approached Bangkok, from winter to summer, from heavy to light garments, but I was wearing jeans, a vest, a T shirt, and a big woolen jumper. I again, started to panic, the temperature when I left England was -1 and now it was +30 and I started to overheat, sweating profusely, sweat pouring down my face and making my clothes wet. I had already taken my big winter coat off. I think many people forget about this when flying into Thailand during this period.
The reason I panicked: if your temperature is over 37.5 you are not allowed entry as it could be a sign of covid. And I was like a hot oven. But this is when everything changed for me. I came off the aircraft walkway and was met by a smiling face (although behind face shields and protective gear, but friendly and chosen to make people relax likely). The first smiling face I'd seen since my journey began in Manchester. It was a very welcome sight!
I, like the rest of the passengers, was shown to some chairs to sit, you aren't allowed to walk around on your own like before Covid-19. And a variety of people, all in covid suits, began checking my documentation, yet another time. But in Suvarnabhumi, it felt very different. There was pleasantness about the process. Extremely efficient, professional, and a lot less tense than Manchester and Schipol. You might even call it welcoming.
It was the first time in 30 hours that I felt relaxed having all my documentation checked. The person checking my papers was helpful, not looking for a reason to stop me from entering but looking for a reason to allow me to enter. After checking everything, we all had numbers put on us for identification, and to my relief my temperature was ok. I was taken to my minibus to make the journey to my ASQ (Alternative State Quarantine) Hotel. My hotel was the Grand Bella, Pattaya.
Now, with all the prep work, all the travel portions, and my arrival complete it was time to see what my just over two weeks in quarantine would be like….
In the next installment mid-week!
Hope you are enjoying this series, Colin!