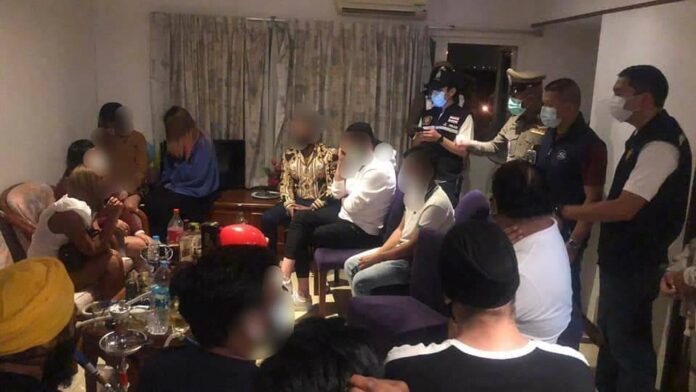 Pattaya, Thailand-
Pattaya and Banglamung police arrested 29 Thai Nationals and foreigners at a restaurant they claimed was actually a shisha lounge, pool hall, and bar in the Soi 7 area in Pattaya this morning.
The incident took place at 12:30 A.M. this morning in the Soi 7 area at an Indian restaurant whose name was withheld pending further investigation and court proceedings. The building in question is a five story venue and the first three floors were closed. According to Banglamung police this was an attempt to "fool" officers that the building was closed.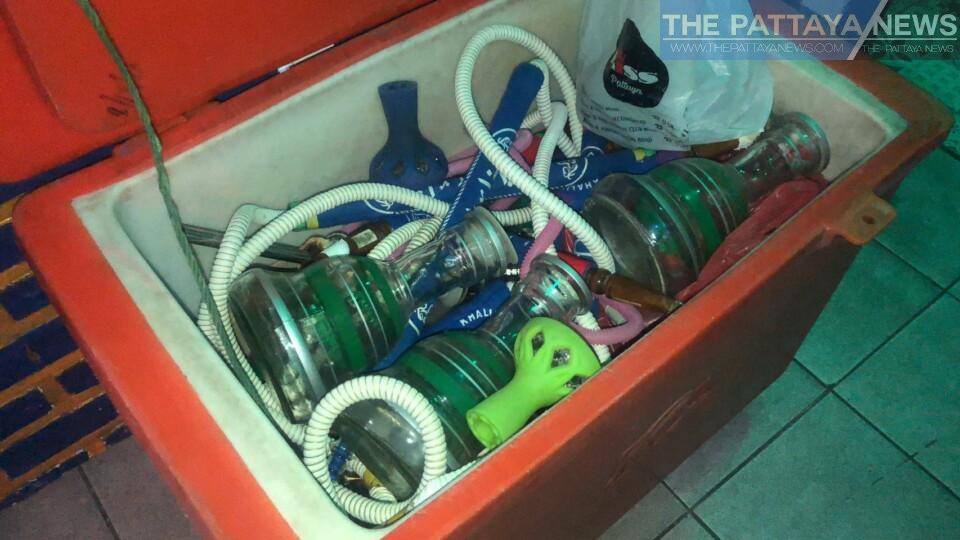 The raid was based on a tip from an undercover officer who had previously confirmed the location was open and operating before the raid took place.
Led by the Banglamung District Sherriff Amnat Charoensri and Pattaya City Police Chief Lt. Col. Pisit Poonsap the officers swept onto the fourth and fifth floors where they found a surprising scene.
A total of 29 people were found gathering and smoking shisha (hookah pipes) in various rooms on the top floors of the venue. Some of the people present were also allegedly drinking alcohol in groups and playing pool/snooker. A total of eighteen hookah pipes were found as well as a room on the fifth floor devoted to lighting the pipes. In Thailand, shisha and hookah is highly illegal.
Eleven foreigners from India, Cambodia, and other countries were found at the venue. The remainder were Thai nationals.
All 29 people at the venue were arrested and taken to the Pattaya Police station where they will be charged under various crimes such as the Emergency Decree Act and the Communicable Disease Act. Due to the current situation in Thailand and Chonburi with Covid-19 violations of these acts contain stiff penalities such as the potential for high fines and jail time. Those present at the venue will also face charges relating to the illegal shisha found, according to police.
It was not immediately clear who owned or managed the venue according to police and they claimed many of the people present were "playing dumb" in terms of how they knew about the venue or who was responsible for it. Police will be interrogating and interviewing those arrested today to determine responsibility. They also seized documents from offices on the top floor relating to ownership.