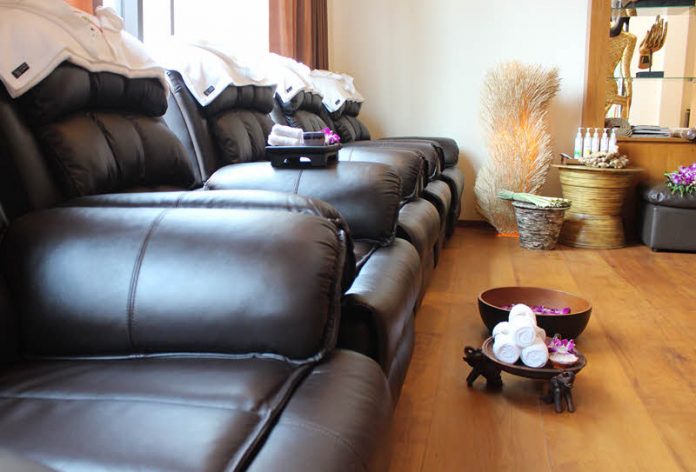 Thailand-
The Thai Government is considering certain measures to assist the traditional Thai massage industry which has been heavily impacted by the Covid-19 pandemic and lack of foreign tourists who were primary customers for the venues before.
Since mid-December of last year, Thailand has also been battling a second round of Covid-19 infections that originally appeared at a shrimp market in Samut Sakhon and has since spread throughout parts of the country. This has resulted in several provinces, including Bangkok and Chonburi, to force close massage shops for the second time in a year out of concern that they could be "high-risk" venues for the spread of the Covid-19 coronavirus.
The first round of infections saw thousands of small massage shops go out of business around the country, primarily due to border restrictions that locked out foreign tourists without going through a variety of hoops such as a two-week quarantine, covid-19 tests, and other items. According to some tourism organizations, as many as 80% of massage shops are now out of business in some areas such as Pattaya and Phuket. The second round of Covid-19 and forced closures have caused concerns that the total infrastructure of this popular tourism business could collapse before tourists return.
Some provinces, such as Hua Hin, ordered the re-opening of traditional massage shops after protests from owners and staff but they remain closed in many other areas, including Chonburi. Bangkok is set to hold a meeting on possibly lifting closure restrictions for massage shops tomorrow, January 21st. Massage shop workers around Thailand are nearly all "informal" or freelance workers and do not collect social security or other benefits for being out of work. They do, however, qualify for a cash payout of 3,500 baht a month for the next two months from the Thai Government approved earlier this week.
Anutin Charnvirakul, the Public Health Minister, held a meeting with the Thai Spa and Wellness Association earlier this week online with over a hundred people on a web conference call from the Thai Massage and Spa industry.
The overall message from the call and those working in the massage industry was that they needed more support to stay afloat. Several prominent ideas were brought up including more compensation for loss of income, access to further loan services, reducing the cost of utility expenses for massage shops, reduction or exemption on business-related taxes and fees as well as a waiver on business-related license fees for two years.
Additionally, most operators were stressing the need to be able to re-open their business as soon as possible, bringing up the fact that there was no sign of "super-spreader" events coming from massage shops and that the industry had very strict rules around Covid-19 and protection measures.
Of those measures, the waiver on license fees appears likely to happen according to Anutin. The other measures will be discussed at a future Thai Cabinet meeting.
Anutin has stated several times it is important to preserve and protect the Thai massage industry, which in 2019 became a UNESCO intangible cultural heritage and highly protected as traditional Thai art.