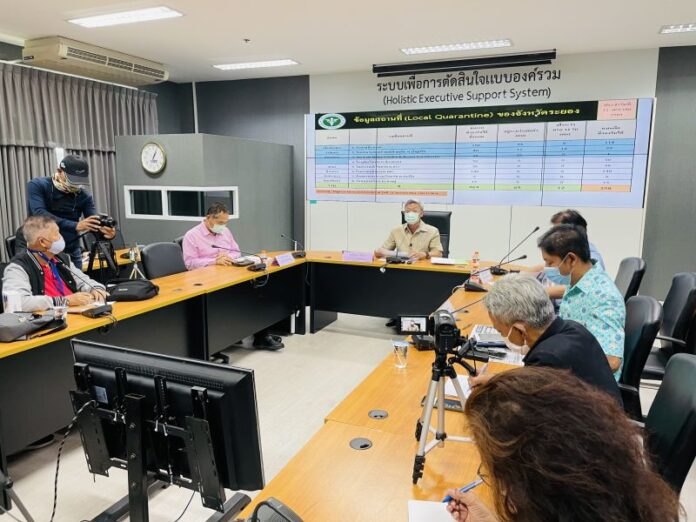 Eastern Economic Corridor, Thailand-
The Governors of Rayong and Chonburi have both spoken at press conferences so far this week in their respective provinces, stressing to their residents that although they understand the difficulty for business owners due to travel restrictions that have essentially brought the area to a halt in terms of domestic tourism and shut many businesses temporarily, they still are asking for patience and cooperation.
This comes the same day as the Thai Government revealed some relief measures, including 3,500 baht a month for two months for informal workers, discounts on water and electricity bills, and other measures.
Today, January 12th, 2021, marks two weeks in Banglamung since the Governor ordered the closure of many different business venues, especially in the entertainment sector, due to officials stating they are "high-risk" for the potential spread of the Covid-19 coronavirus. Rayong has been under restrictions for slightly longer. The rest of Chonburi followed Banglamung into restrictions in early January and remain there as of now.
Chonburi province announced 19 confirmed cases of Covid-19 this morning, the majority from a large cluster at a brewery in Si Racha.  Officials, meanwhile, have stated that they feel the situation is under control and that track and trace teams have been working "around the clock" to identify everyone who was a contact of those involved in the recent cluster.
Rayong announced nine cases of Covid-19 today. All, according to the Governor, were associated with gambling-related clusters and illegal gambling in general. The Rayong governor also announced that 67 people have been arrested in relation to illegal gambling and gatherings relating to those. The Si Racha brewery cluster began after a Covid-19 positive person from Rayong visited the brewery on Christmas week, leading to a "super spreader" event which as of this morning as infected over 60 people either directly or indirectly related to the brewery. The Rayong cluster began after a person visited the epicenter of the recent series of infections, a fish market in Samut Sakhon. That individual then went gambling and is believed to have been a "super spreader" as well.
Both Governors have acknowledged the situation appears to be improving with cases dropping overall, however, stressed that it was too early to release restrictions in the provinces.
The Public Health Department has hinted that they would need at least a fourteen-day period without new "mystery" cases and active case finding and testing would need to show no signs of infection in the local community in order to release any restrictions like business closures. However, there have been no "official" announcements or promises on when restrictions would be lifted The Pattaya News notes.
Public Health Officials as well as the governors have stated numerous times that they hope to be able to resolve the situation by the end of January and begin to relax restrictions that have caused severe pain for nearly every business sector in the Eastern provinces. Trat and Chanthaburi, despite significantly fewer cases, are also "highly controlled" provinces due to proximity to Rayong and Chonburi and concerns that some people may have "fled" the shutdowns and measures to attempt to go to a nearby province instead. Entertainment style venues, as well as other restrictions, are in place in these provinces as well.
The Pattaya News will continue to provide updated daily news about the situation in the Eastern provinces overall.
Photo Credit: Naew Na