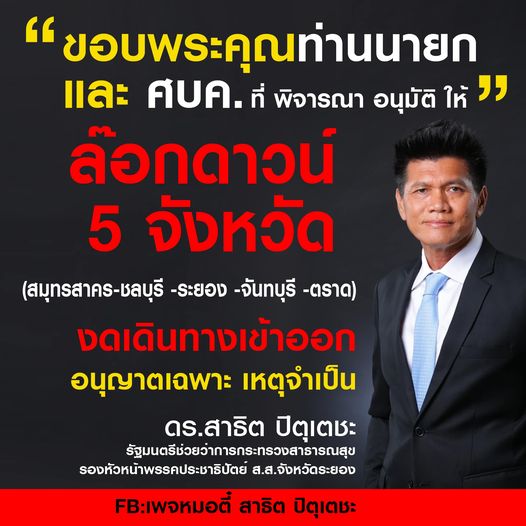 Bangkok, Thailand-
In a social media post made around 8:30 P.M. this evening, the Deputy Health Minister of Thailand Satit Pitutacha announced on his own official social media accounts that the Prime Minister of Thailand has preliminarily approved a version of interprovincial travel restrictions on five provinces, including Chonburi, home of Pattaya.
He himself referred to the restrictions as a major restriction on travel but did not provide specific details, stating they would come later. The Prime Minister of Thailand, Prayut Chan-o-Cha, however, later said it is not a lockdown but tighter restrictions in coordination with provincial governors.
The Pattaya News notes these details would be likely to arrive following meetings with the Center for Covid-19 Situation Administration and the Thai Cabinet tomorrow. He stated that checkpoints would take place between provinces restricting entry and exit in a joint operation between security agencies, the Ministry of Public Health, and the Ministry of the Interior but it is not yet clear what this looks like. These are inter-provincial restrictions, not inter-district. At this time, however, there is no total lockdown but some checkpoints checking temperature and health are reported.
The five provinces named are Chonburi, Rayong, Trat, Samut Sakhon, and Chanthaburi. He also stated that people are requested (not ordered) not to enter or leave and that "he understood significant hardship may take place temporarily on local residents but this will only be for a short period and will save hardship for the whole country."
Satit also stated that the Ministry of Public Health had set a goal of "28 days" to control the situation with the Covid-19 virus in the high-risk provinces, especially Samut Sakhon, Chonburi, Rayong, and Chanthaburi.
It was hinted at that there may be exceptions for emergencies or essential travel but the exact details were not yet revealed to the press. It was also not stated if domestic mass transportation between provinces would be suspended or what this would look like. At this time the Chonburi Governor has "requested" people not to leave or enter the province and travel while the situation is brought under control.
We will provide more details once there are official announcements, this is a developing story and may change quickly. It still appears that as of now these are requests not to leave and not orders and NOT a total lockdown.