Bangkok-
The Thai Government is pulling out all the stops to prove to the public that seafood is safe following a large cluster of Covid-19 infections at a seafood market in Samut Sakhon, primarily amongst migrant workers.
Not only are they starting a certification campaign which we originally announced yesterday but officials from many agencies including the Thai Cabinet are taking time to eat seafood and be photographed to show it is safe. Our original article on the certification campaign can be found below.
https://thepattayanews.com/2020/12/25/thai-fisheries-department-launches-massive-campaign-to-prove-thai-seafood-is-safe-from-covid-19-to-label-seafood-with-covid-safe-stickers/
Today, December 26th, the Department of Fisheries held what they called the Standardized Thai Marine Animals Against Covid-19 seafood market activity in front of their headquarters in Bangkok.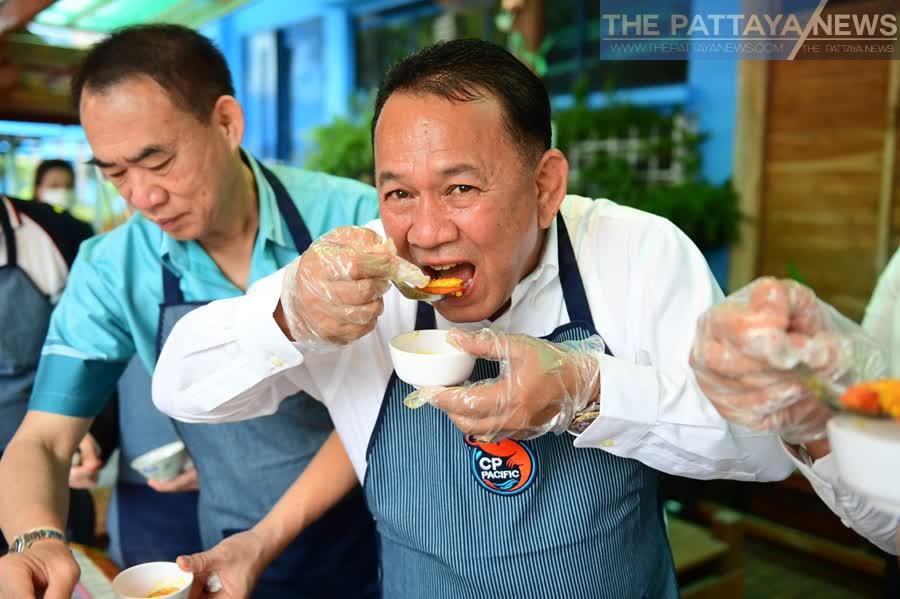 The event was a sales venue featuring a variety of seafood and led by Department of Fisheries Director-General Meesak Pakdikong who personally demonstrated the safety of seafood by cooking and eating several meals. He stressed to the public that cold-blooded aquatic life could not carry or transmit respiratory diseases to people and that seafood was safe if properly cleaned and cooked.
Members of the Thai Cabinet were also filmed having a seafood lunch with a press contingency, stressing that seafood was safe and encouraging people to support seafood vendors and not be fearful.
In front of government house in Bangkok Pro-Democracy protesters and volunteer guards helped shrimp vendors sell seafood and helped inform the public that seafood was safe.
The Center for Covid-19 Situation Administration took time in both of their briefings this morning to reassure the public of the safety of seafood, stressing there was no connection between eating seafood and Covid19.
Government agencies hope the massive education campaign helps a difficult situation as a lockdown in Samut Sakhon, which provides approximately 40 percent of Thailands seafood, is causing an estimated one billion baht a day in damage to the economy, especially the seafood industry according to the Bank of Thailand and Ministry of Finance.
Photo credit Thai National News Bureau