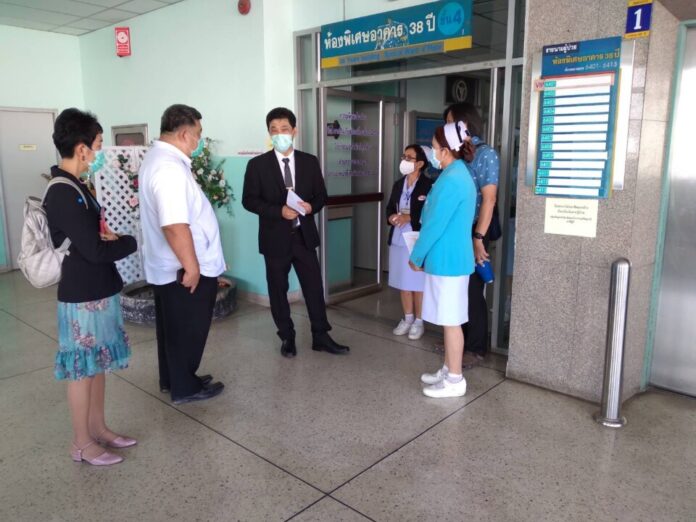 Thailand-
A recent cluster of infections of Covid-19 that has emerged in Samut Sakhon in Thailand, a part of the Bangkok Metropolitan Area, has seen much anger and blame to many different parties given on Thai social media over the past several days.
However, many Human Rights Organizations are calling for society and people not to blame migrant workers or foreign nationals for the outbreak, stating the blame should be redirected to more appropriate sources.
The cluster of Covid-19 infections has grown to over a thousand now in Samut Sakhon, with over 90% of them migrant workers who live in dormitories in the area. The primary source of the recent infection has been stated by the Ministry of Public Health (MOPH) as the Central Shrimp Market in Mahachai, and that area, as well as the migrant worker dorms, have been locked down with barbed wire fences and guards, sealing thousands of migrants inside. Of those who have tested positive, nearly all are asymptomatic according to the MOPH.
Migrant workers are not being allowed to leave the area, according to Dr. Taweesin Visanuyothin of the Center for Covid-19 Situation Administration (CCSA). Asymptomatic migrants are being treated in the dorms and a field hospital set up outside and are being provided food, according to his statement. However, many human rights groups have brought up their concerns about the situation and the similarity to an outbreak that took place in migrant dormitories in Singapore. In the Singapore case, thousands of migrants were kept locked in dormitories for months, with the disease seemingly allowed to spread amongst the population.
Human Rights Watch of Asia has expressed their concern multiple times on their twitter accounts, such as this statement from the Deputy Asia Director.
Serious concerns for foreign migrant workers in #Mahachai in #Covid19 lockdown, esp. those unable to work & lacking $$ to buy food. Food prices now surging & not much help in sight. Thailand gov't needs to step up, provide basic supplies. Will @prdthailand & @prayutofficial help? pic.twitter.com/cdshNWieix

— Phil Robertson (@Reaproy) December 21, 2020
Meanwhile, Thai social media has seen many individuals "blaming" a variety of sources, including migrant workers who are undocumented, for the recent outbreak. Concerns have risen among many Human Rights organizations as well as media organizations about possible retaliatory actions against migrant workers as a result of the outbreak. In Samut Sakhon, tens of thousands of migrant workers largely prop up the important fishing and seafood industry in the province alone which is currently estimated by the Thai Government at losing a billion baht a day due to a lockdown in that province.
Prime Minister Prayut Chan O'Cha has called for citizens not to look for someone to blame, but rather to work together to help eliminate the virus and practice behaviors like social distancing, wearing masks, washing hands and using the Thaichana platform to check into venues.
A scare just a month prior in the Chiang Mai area was, as many people were reminding those blaming migrant workers on social media, brought in by Thai nationals who had snuck in from Myanmar after the border town of Tachiliek shut down following an outbreak of Covid-19 there, putting hundreds of Thai women who worked at "entertainment venues" out of work. Myanmar has suffered a substantial Covid-19 outbreak over the past several months.
A variety of other organizations have also been blamed on social media, from the border patrol, to the Thai Military, to the Health Minister, to the government overall, to the Prime Minister and others. The Border Patrol issued a statement earlier today in which they essentially admitted that due to the size of the porous border with Myanmar it was impossible to catch every single illegal entry, a fact that many other people on social media have brought up often.
The Pattaya News notes that many commentators on social media also brought up the fact that the employers of the migrant workers who pay them low wages and house them in cramped, unsanitary conditions in many cases should also get some of the blame. Commentators who mentioned this also brought up the fact that these employers are well aware they hire undocumented workers without legal status in Thailand or work permits and in some cases assist at helping them enter Thailand against the law.
Regardless, anger and blame continues on social media directed at many different channels and outlets as the Ministry of Public Health and Department of Disease Control state that, at this time, they believe the outbreak is under control and there is not a need for a national lockdown, which is the greatest fear of most people in a country where millions work day to day that has already seen foreign tourism dry up due to border controls over the last year.