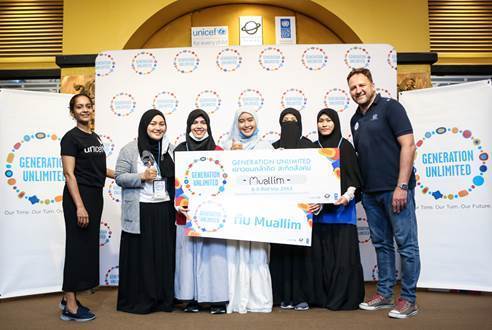 BANGKOK, 14 December 2020 – For the second consecutive year, young innovators from Thailand won UNICEF-led Generation Unlimited (GenU) Youth Challenge, a global initiative aiming to unleash the creativity of young people aged 14-24 in designing solutions to address social problems.
The Thai team was announced as one of eight global winners at a high-level virtual event attended by UNICEF Executive Director Henrietta Fore, UNDP Administrator Achim Steiner, Plan International Chief Executive Officer Anne-Brigitte Albrectsen and World Organization of the Scout Movement Secretary General Ahmad Alhendawi.
The team, "Muallim," comprises three university students from Thailand's Southern Border Provinces. They were selected as global winners for their innovative twist on the snakes and ladders board game, educating primary school children about the harm of bullying and the importance of empathy. They competed against 180 other finalist teams from 36 countries.
The challenge is an initiative by GenU, a global partnership launched at the 2018 UN General Assembly aiming to create better education, skills, employment and entrepreneurial opportunities for young people. In 2020, Gen-U has engaged over 15 million youth across the world.
This is the second year a team from Thailand has emerged a global winner. "Fantastic Four," a team of four youths who were previously in juvenile detention in Nakhon Pathom province, won the first GenU Youth Challenge in 2019. Last year's winners developed a project in collaboration with the Department of Juvenile Observation and Protection and other partners to offer support mechanisms for children and young people in conflict with the law to prevent repeat offending, including peer support and the job seeking website Choose.in.th.
This year's winning teams will each receive mentoring and US$15,000 (approximately 470,000 baht) in seed funding to turn their ideas into reality and make an impact on their communities.
Severine Leonardi, Acting UNICEF Representative for Thailand, congratulated Muallim and the 466 young innovators from Thailand who took part in the challenge for their creativity and drive in unlocking opportunities for their generation despite disruption caused by the COVID-19 pandemic.
"We are thrilled to see young people in Thailand emerge as the global winners of the GenU Youth Challenge for the second time," said Leonardi. "Young people prove once more that, when given the support and opportunity, they have the ideas and talent to create social innovation – needed now more than ever. Congratulations to Muallim and all teams globally and from Thailand's Pattani, Yala, Narathiwat and Songkhla provinces for tackling today's social problems head on, from school dropout and sex education to mental health and the environment."
"Warm congratulations to Muallim, an inspiring team of dynamic and committed young girls from the Southern Border Provinces of Thailand, and to the other winning teams from around the world," added Renaud Meyer, UNDP Resident Representative in Thailand. "All teams have not only demonstrated their eagerness to create positive change in their communities but have also shown their resilience, through developing solutions that address our world's most pressing issues. Social innovation and entrepreneurship are great enablers to create positive change. UNDP will continue to support them and look forward to seeing the success of their social ventures."
"GenU is not only a space for youth to design solutions to address social problems, but more importantly a space for youth to create inspiration, impact and value for society and for the greater future we all picture to achieve – this is what Saturday School believes in," said Sorawit Paiboonrattanakorn, Founder and Chief Executive Officer of Saturday School.
Muallim team members Nisma Khodaeh, Nadiroh Wohae and Nurlaila Dokha are studying at the Fatoni University in Pattani province to become teachers. They hope to supplement traditional learning methods about bullying in the classroom with their board game, "DAWN." It teaches problem solving through active learning and peaceful dialogue.
"Growing up in a region affected by longstanding conflict, we feel it is really important to teach the values of peace, social cohesion and respect for one another to children from an early age so that they can be set up for positive interactions later in life, as well as be able to form positive and healthy relationships with their peers, families, communities and the society at large," the team said.
DAWN players take turns in moving their pieces up the board according to the number they roll on the dice. To win, they must develop an understanding of bullying and recognize bullying behaviours. For example, they learn how to handle bullying through Handle Cards, how to help their peers through Hero Cards and how to self-reflect through Question Cards.
DAWN was modelled on real-life bullying situations through surveys and piloted with children in schools and learning centres through partnership with the Assalam Smart School Association of Thailand and TK Park. The GenU Youth Challenge seed funding and mentorship will enable the team to increase the scale of their project and the number of school children that they can reach in their community and beyond. They aim to develop DAWN for different age groups, languages and contexts.
"While we are starting with a physical board game, we believe that with the help of technology our solution can be developed into an application which can be accessed and played by children anywhere in the world," the team noted.
Muallim was selected to represent Thailand globally in August after a competitive judging process at the GenU 2020 Youth Challenge, co-hosted by UNICEF Thailand, UNDP and Saturday School Foundation. The panel of judges drawn from the private, public and civil society sectors comprised of representatives from UNICEF, UNDP, UNICEF Thailand Next Generation, the Southern Border Provinces Administrative Centre, the Stock Exchange of Thailand, Global Compact Network Thailand and the Young Southern Entrepreneur Association.
Khodaeh, Wohae and Dokha look forward to connecting with global experts in board games and learning more about business development and technology application.
"It is our hope that our initiative will contribute to building a more peaceful world for generations to come," they said.
The other seven global winners' ideas include a 3D-printed bionic arm from North Macedonia; an education platform bridging the gender gap in STEM from Mexico; a centre empowering youth with disabilities from Syria; a social venture in clean energy from Kenya; a social venture in recycling from Nicaragua; a hub for training youth not in school from Nigeria and a radio application for remote education from India.