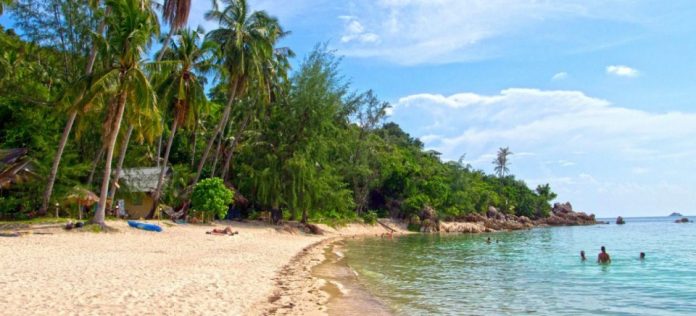 Pioneering International School Students on Koh Phangan Lead by Example Towards Sustainability Excellence.
The following is a press release.
Socially responsible school students at Si Ri Panya International School have embarked upon an exciting two-year environmental and sustainability project, working towards the prestigious Green-Flag Award in the Eco-Schools Programme.
This internationally recognised project, driven by students in Si Ri Panya's Eco-Committee, empowers children to implement their vision of a greener, more eco-friendly school that not only impacts their immediate school environment but also builds strong links within the local community through a collaboration of eco-led projects.
Official training from World Wildlife Fund (WWF) Thailand was provided for children of the Eco-Committee by WWF representative Khun Thitin Hansmutr, who visited the island from Bangkok, equipping the children with the knowledge and skills needed to lead the project.
Children are already working on innovative ideas to improve their school's existing environmental policies. These include expanding their current recycling system, sourcing a vending machine where children will receive payment for inserting collected plastic, producing reusable cloth bags and further promotion of their water refill stations, as well as creating new, exciting ventures to promote sustainability.
In this inspiring child-led project, students are also keen to encourage biodiversity and improve animal habitats to attract more birds and butterflies to the local area. They will also liaise with school staff to facilitate the composting of food waste within the school.
By working towards the Eco-Schools Green-Flag Award, Si Ri Panya students aim to demonstrate that everyone can make simple, practical lifestyle changes to preserve the environment; not only benefiting the wider community on Koh Phangan but in all of Thailand and the rest of the world.
Project coordinator Faye Reading said, "this project encourages experiential inquiry-based learning, where students benefit tremendously by developing invaluable life skills. Children will experience practical project management, problem-solving, leadership, teamwork and collaboration with organisations in the wider community, such as Trash Hero."
School owner Nicola Bunchuay, continued, "with outdoor learning naturally incorporated in the project, children's well-being, mental health and self-confidence are boosted; an ideal supplement to our already diverse and well-rounded topic-based curriculum."
Improved sustainability practices will help preserve Thailand's outstanding natural beauty for years to come, thus boosting tourism and encouraging the economy to thrive for the benefit of future generations.