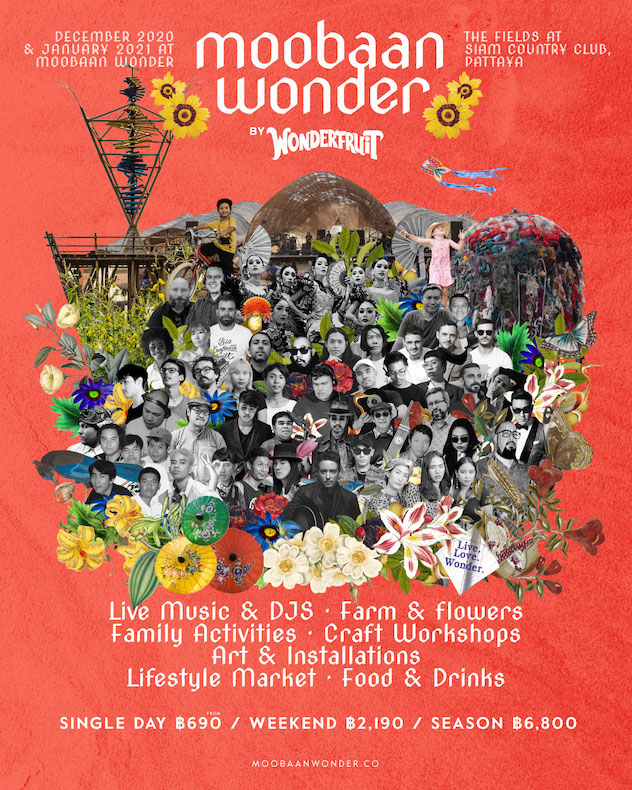 Pattaya, Thailand-
The "Moobaan Wonder" event, presented by Wonderfruit, is being held over the next four weekends in the Pattaya area, having kicked off last weekend at Siam Country Club.
The event is a "replacement" event for the postponed Wonderfruit festival which normally attracts people and artists from all over the world but due to Covid-19 restrictions and border closures in place did not take place this year. The event is primarily aimed at a "local and domestic" Thai audience although anyone is welcome, including expats and foreigners. The musical artists this year are also in person local Thai artists although livestreams of international artists will take place. Moobaan means "Village" in the Thai language.
The event features concerts, sustainable art structures, farm-to-table food, arts and crafts, culture shows, special designs and art exhibitions, environmental learning workshops, camping and much, much, much more changing every single weekend. The event is family friendly as well according to organizers.  Of course, the event is also focused on nature, farms, fields and the beauty of nature and highlights this as well as ensuring they are sustainably produced and environmentally friendly.
Wonderfruit describes the overall event as a season-long village festival celebrating Thai art, culture and nature. If you would like to learn more click here.
Tickets are 690 baht for single day passes, 2,190 baht for full weekend passes and 6,800 baht for season passes. The event will run for the next four weekends in Pattaya. The following is a list of rules from the promoters of the event:
Moobaan Wonder is for everyone. To make sure it stays a welcome and inclusive environment, and to keep things super easy in The Fields, we have a few village rules for all attendees.
Don't remove your wristband.
Don't move or vandalize the artwork.
Don't bring pets unless you have a Dog Pass.
Don't drop cigarette butts or litter on the ground.
Don't camp in unauthorized locations.
Don't buy bootleg products.
Don't bring food, alcohol, or drinks from outside.
Don't cook or light fires.
Don't use illicit substances.
Don't bring any single-use plastic or foam.
Don't bring any weapons, explosives or other harmful items.
Don't bring any drones onto the site.
Don't try to buy alcohol if you're a minor.
Wear a mask at all times.
Don't forget to scan in and out using the QR codes at the gates.
Don't enter if your temperature is higher than 37.5ºC when tested.
If you feel sick, visit First Aid.
Wash your hands.
You can still discover all the wonder within, we just ask everyone to do their part.