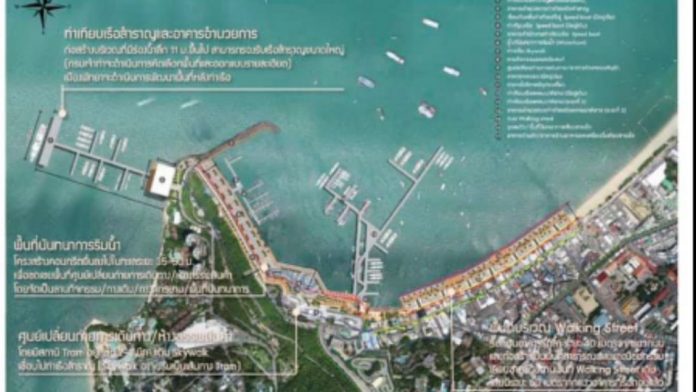 Pattaya, Thailand-
It is time for our weekly reader talkback results which we post mid to late week each and every week detailing the results of a question we ask our readers at the start of the week that ties in current news in and around Thailand and Pattaya. This week, we discuss one of our most popular articles which was about a proposed cruise ship terminal near Bali Hai Pier (along with a proposed skywalk and plans to improve Walking Street)
That original article can be found here:
Sky Walk, Cruise Terminal, improved Walking Street to be developed, says Mayor
Our talkback article where we posed the question to our readers can be found below:
Feature: Reader Talkback-Do you think a proposed cruise ship terminal for Pattaya is a good idea?
  So, what did our readers think? Let's find out: (Keep in mind spelling and thoughts are those of readers and are unedited for the purpose of this article)
Michael M: Just another thai gov ploy to take the focus of the immedate issue ,,,, put the money into helping tge thai people who have no way to earn a wage ,,, the tourists and thst deffo includes the 2week ones who do contribute to local econimies alot more than the ones staying in gov run quaritine prison camps or cruise ships ,,, these will just bring flocks of people who wont spend money eating drinking or on entertainment as they have paid for it already onboard ,,, wake up its not a priority your people are and their livelyhoods ,,
Jean Claude G: t sounds a very good idea to me as long as the ships are not too big because we cannot enjoy the beach and sea in Pattaya which are too dirty.
Charlie B: Two points. Firstly is there really the demand? The lack of a terminal does not stop cruise ships going to Phuket (although the taxi monopolistic pricing there has discouraged at least one company).
Second – places like Venice are turning away from cruise ships because they contribute so little to the economy. The passengers (inmates) don't take accommodation ashore and don't eat or drink ashore much (they are on All Inclusive packages on board). A few shore based businesses such as the Cabarets might gain business but the cruise company will hammer them on commissions to line their pockets.
Clifford K: Probably all part of a dream to turn Pattaya into a different kind of destination than what it has been. That desire is all well and good but I would hate to see this area become a cruise destination. That just sounds awful to me. Plus there is such a bad track record here of taking care of things they have already built. I think the area would be better served by spending the money on improving and regularly maintaining what is already here including infrastructure. Clean up, improve, maintain, etc. in the near term so that more and more might be interested in starting business here post-pandemic. Even with the great sale prices and rental prices coming in the future who would really want to start business here given the history of poor infrastructure maintenance? Spend money in the near term to make the place attractive to new business post-pandemic. Don't build shiny new things and ignore everything else that is falling apart.
Willis N: I've been in tourist towns with cruise ships. They don't spend (unless you get special overnight tours), they won't be here at night generally, they will be here daytime to wander around spending little as they get everything onboard and cause more headaches then they are worth.
James W: Not a good idea at this time.Passengers on a cruise ship are for the most part ,families,older people,and couples. They would rarely be looking for the gogo clubs are sex shows.Now there are cruises that are designed for "gays only",and "singles under 55", but not that many to be of a reason for the cost of a cruise ship terminal in Pattaya.Other sea side areas are far more likely to attract cruise ships. Is there a cruise ship terminal on The Chao Phraya River in Bangkok ?
Kevin K: Cruise ship terminal, that's it, last nail in coffin. In early 2000 they started busing tons upon tons of Chinese and Korean tourists, disrupting my joy and happiness while inside an A Go Go and in comes the butt load of tourist ordering a coke and straw and sitting inside the A GO GO as if at the zoo. Pattaya toast.
  Kevin S: Fix, complete and maintain all previous projects first. Show that can be done before wasting taxpayers money on what will be a brown envelope exercise.
Alfie: They should feed their starving people first!!!
Have more comments? These are just a few we selected from roughly a hundred responses! Feel free to comment below. We will have a new reader talkback each and every Sunday here!