Pattaya, Thailand-
Pattaya City was bustling for the second weekend in a row as residents, domestic tourists and expats celebrated a triple event of Loy Krathong, Halloween and the 5th annual Bikini Beach Run.
Last weekend the city held the Eastern Colorful Food and Music Festival as part of Pattaya city officials overall plan to hold festivals and events as often as possible to help encourage domestic tourism to the city that has been hit brutally hard by the Covid-19 pandemic. Borders remain closed to foreign tourists as a whole and Pattaya, which relies on tourism for nearly all of its GDP, has had to focus on attracting Thai tourists and convincing expat residents to come out.
Although the city is still as a whole struggling with many businesses and venues closed or very quiet during the weekdays, weekends recently have seen significantly improved foot traffic and business as many people visit the city from Bangkok, Rayong and the greater Chonburi area.
The Bikini Beach Run saw hundreds of people run at sundown on Pattaya Beach, which was lit up with neon lights, from one end to the other. Bikini's were optional and The Pattaya News notes that there did not seem to be very many. As it was also Halloween many runners ran in full Halloween costume.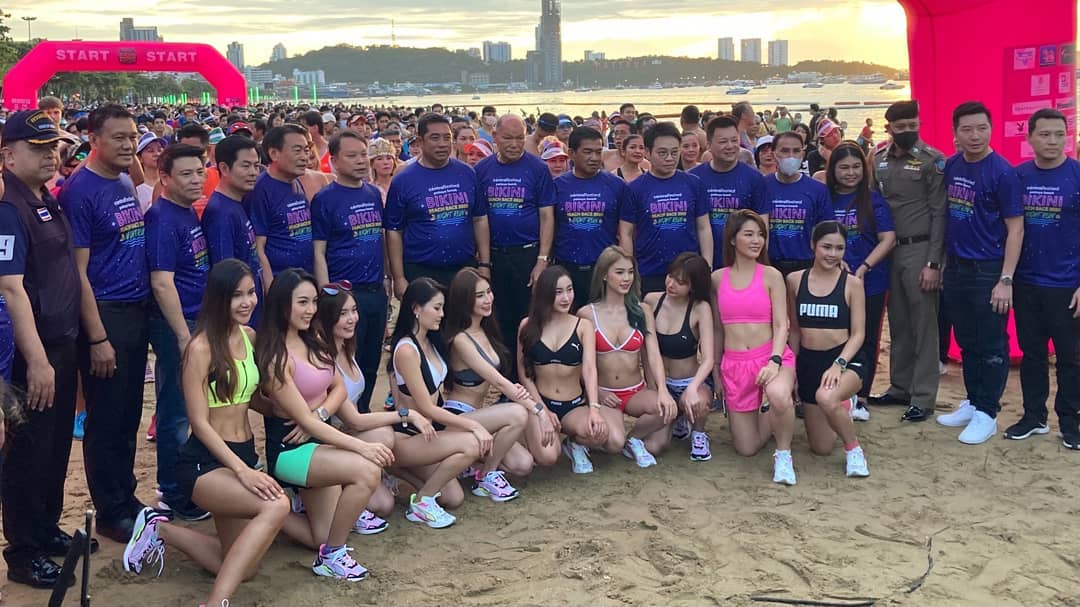 Speaking of Halloween, the town saw dozens of parties and events with many bar, hotel and restaurant owners reporting better than usual traffic and increased business from those celebrating the spooky holiday. Although Halloween is not a traditional Thai holiday it has grown in popularity yearly in Pattaya with both local residents and tourists.
Finally, thousands of Thais and foreigners flocked to Pattaya area beaches to set off their krathongs (a basket generally made of natural materials).  This reflected many hoping to float their troubles away. As 2020 has been a difficult year for many due to the Covid-19 pandemic and control measures and restrictions, The Pattaya News found that many people were "wishing" for Covid-19 to go away so that the economy can improve upon asking several residents what they wished for.
City officials also held a krathong contest for local school students on the best designed krathong and several concerts were also held on the beach. Pattaya Mayor Sonthaya Khunplume also stated the importance of both using environmentally friendly krathongs as well as planning an extensive cleanup process which saw hundreds of workers clean the area beaches at sunrise this morning to ensure they were ready for those who wished to enjoy them on Sunday.