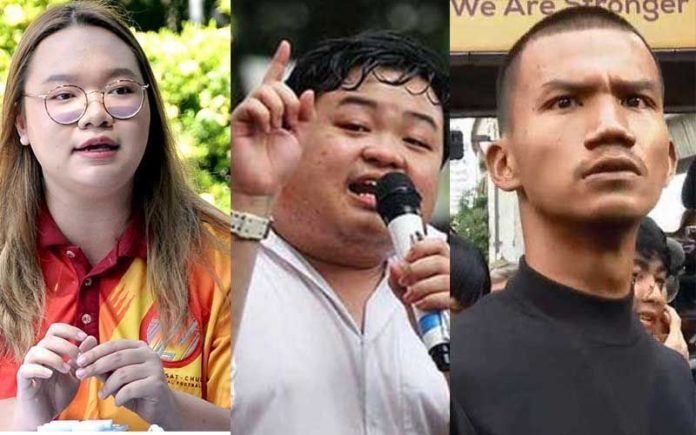 Bangkok, Thailand-
Four prominent pro-democracy protest leaders who had previously been arrested in Bangkok were released by a court order last evening, however, three of them were immediately rearrested in an incident that caused anger amongst supporters of the protest leaders.
The four protest leaders who are named as Panusaya "Rung" Sithijirawattanakul, Parit "Penguin" Chiwarak, Patiwat "Bank" Saraiyam and Panupong Jadnok, who goes by "Mike Rayong" were ordered to be released by a court order from the Criminal court who declined to grant a request by police to hold them for further interrogation.
Patiwat was released without incident but told protest supporters that Penguin and Mike Rayong had been further delayed by police officials. Rung had been taken to a hospital for a routine medical examination stated police officials and later appeared at the Prachacheun Police Station with Parit.
Panupong, Panusaya and Parit are considered three of the most visible pro-democracy leaders and most outspoken. They face multiple alleged charges from prior protest rallies ranging from small charges such as illegally using microphones to very serious charges such as sedition. They also face charges relating to violating Covid-19 related measures, citing unrest, violating mass assembly laws and others.
Police officials stated that the three face other charges for warrants in other jurisdictions and were re-arrested per the law for those charges, specifically in Ayutthaya. It is believed they will be taken to the Ayutthaya Police Station. Patiwat remains freed, although was facing less serious charges than the other protest leaders.
The scene in front of Prachacheun police station where a large group of upset protesters gathered due to being angry about the delay of release of the three prominent protest leaders was tense and described by some at the scene as "chaotic". Both Rung and Parit spoke to the crowd of protesters despite police initially appearing to resist their attempts to do so.
Mike Rayong was pictured being carried from a police vehicle, appearing to be unconscious, at Prachacheun Police Station following what was described as an altercation between law enforcement and protesters which also resulted in broken windows on a police vehicle holding the protest leaders. This altercation followed the re-arrest of Parit and Mike who both claimed the arrest was done illegally. It is unclear the exact circumstances that led to his condition with both protesters and law enforcement giving different stories of the altercation. He was later described by Tossaporn Sereerak, a doctor and former Pheu Thai MP, as alert and recovering in Phraram 9 Hospital.
Parit also reportedly was sent to Kasemrat Prachacheun Hospital for treatment for exhaustion and a cut from glass during the previous altercation early in the morning.
As of press time all three remained in a hospital for observation, however police officers have reportedly been stationed at their hospital rooms. Mike Rayong was visited by police officers who reportedly announced his official re-arrest standing in front of his hospital bed, although he will stay in the hospital according to doctors for treatment for the time being. Protesters have stated that they would make further announcements about their next steps on their social media accounts today.
Photo: Naew Na