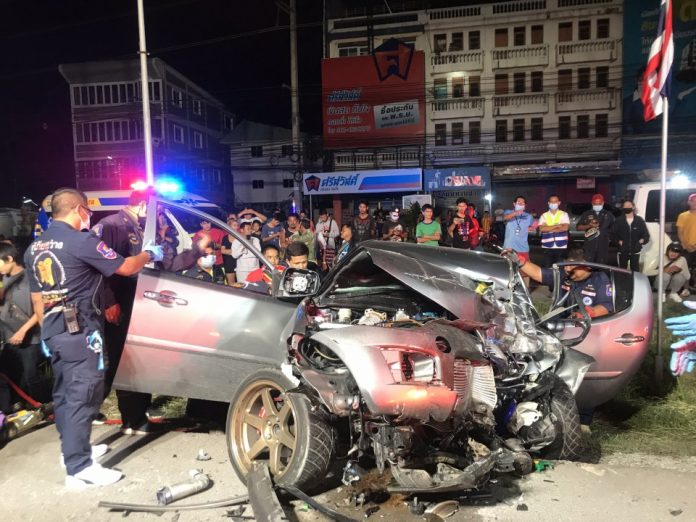 Pattaya, Thailand-
The Pattaya News team recently went through our coverage of accidents for the past month, October, as even for us it has seemed our teams have been out a lot to accidents in the Chonburi and Pattaya area.
We have discussed before why we cover accidents here at The Pattaya News, despite some folks seeming to feel it "is not news" or happens everyday. You can take a look at that editorial here:
 For October, Chonburi had from our coverage 23 dead and 39 injured. Most of this was in outside of Pattaya proper, in Banglamung, Si Racha or Nongprue. Of course, not every single accident gets recorded or reported but as we ride along with local Sawang Boriboon rescue workers we tend to see most of them first hand. The majority of the accidents involved alcohol, were late at night and involved motorbikes. In most of the death related accidents there was a lack of helmet wearing and speed was a factor.
To be fair, police have stepped up checkpoints in Pattaya proper and the number of accidents actually in the city, which includes Jomtien was very, very low. However, once you get out to Banglamung, Si Racha, and rural Chonburi it is a very different story.
We posted yesterday that authorities are creating a video contest in hopes of convincing people to wear helmets but this likely won't be a long term solution.
Thai Government to hold a helmet wearing video design competition in hopes of improving road safety
What is even more astounding about these numbers is that with the lack of foreign tourists due to the Covid-19 pandemic the number of road accidents we have been seeing have actually increased vs. decreased recently. Those of you are regular readers have commented on this as well.  Perhaps, as some allude to, it is due to the empty roads in the area and less traffic which inspire some people to drive faster.
Therefore, we want your opinion. How can this problem be better controlled? How can the same level of urgency and importance that Covid-19 has in Thailand also be applied to road accidents?  The Pattaya News team wants to help fix this problem that is killing and maiming many of our local residents on a daily, weekly and monthly basis and the only way to do so is to bring further awareness of the issue, not hide it.
Also, although Thailand is introducing new laws for "big bikes" this is, in our experience of going to nearly every accident, a very low number of the actual cases. Most accidents involve low speed bikes being driven fast.
Big bike riders will be required to officially test for separate driving exam, Thailand's Royal Gazette announces today
The bottom line is many factors seem to lead to the deadly road accidents and deaths, but how do we change it? We want your opinions.