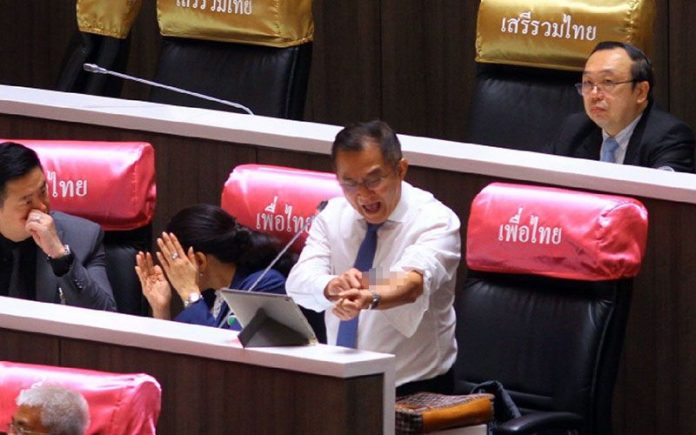 Bangkok, Thailand-
A member of Parliament, named as Wisarn Techatheerawat, a member of the opposition Pheu Thai party from Chiang Rai, stunned an emergency parliament session in Bangkok earlier this evening after he took out a paring knife and cut his wrist three times in the middle of the parliamentary session.
He was reportedly at the end of a passionate plea for the Prime Minister, Prayut Chan O'Cha, to resign when he rolled up his sleeve and cut his wrist horizontally. The emergency parliament session was called after weeks of escalating political tension and pro-democracy protests in Bangkok that are now also seeing counter protests by those who are pro-establishment. He reportedly cut himself as he was making a statement that he could shed blood so that protesters would not have to.
The MP was rushed out of Parliament for medical attention but the cuts were reportedly not very deep and he is receiving treatment and expected to be fine according to medical personnel. He is expected to return to Parliament after treatment.
Meanwhile, Mr. Sira Jenjaka, MP, Palang Pracharat Party, which is the government majority party, held an interview with the press following the incident claiming it made a charade out of Parliament and that charges should be filed for bringing a weapon into the Parliament House.
The shocking event was live on television covering the parliamentary hearings.
This is a developing story and more details may be added without prior warning.
Photos: Naew Na