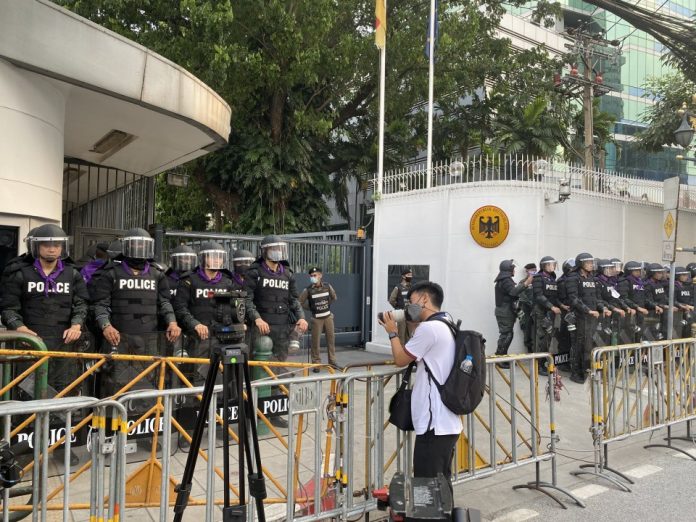 Bangkok –
Important: This is a developing story and will be updated throughout the evening. Stay tuned to this page for neutral, unbiased updates on the events. Live updates are at the bottom of this page as the event continues.
A group of pro-democracy activists today, October 26, was swelling in front of the Samyan Mitrtown shopping mall in Bangkok as of 3:00 PM to prepare for a march to the German Embassy at 5:00 PM. as scheduled.
Prior to the pro-democracy rally, a group of royalist supporters was gathering outside the German Embassy around 1:00 PM to submit a petition to an Embassy representative, explaining how they felt pro-democracy supporters had spread false accusations about the monarchy and the Thai Government via social media and urging the German government to contemplate both sides of the issue.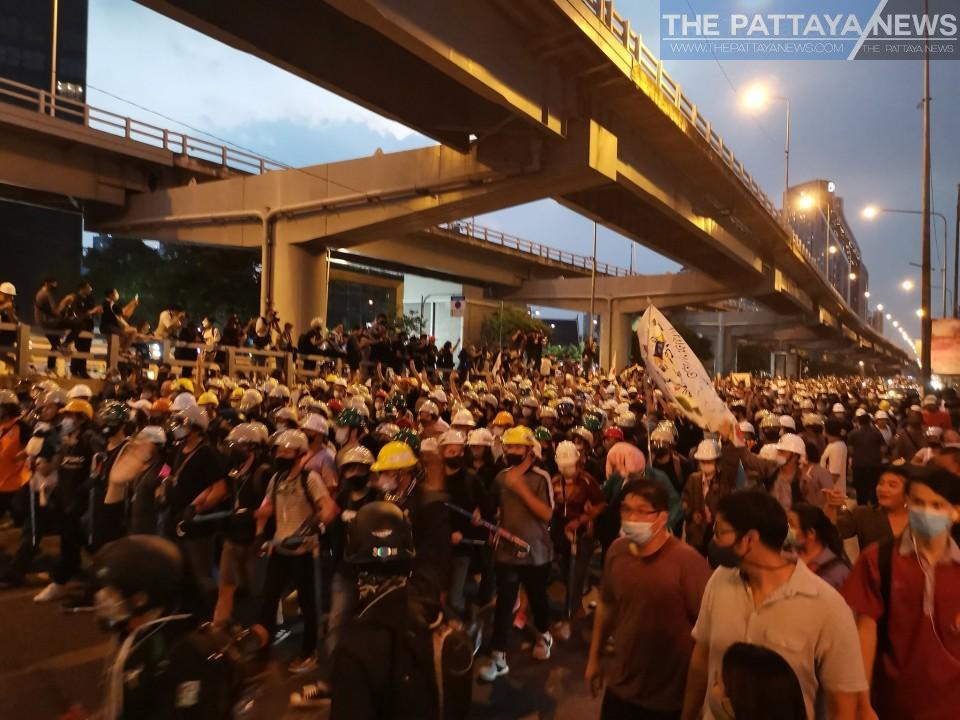 Riot police have arrived at the Embassy and installed traffic barricades and barbed-wire fences in front of the Embassy entrance ahead of the pro-democracy demonstration shortly after the ultra-royalist group had ended their gathering at 2:00 PM.
The march this evening aims to submit a controversial petition to the German authorities in order to examine if His Majesty the King had violated German sovereignty by exercising his power on its territory, according to an online statement by the United Front of Thammasat University and Demonstration.
Meanwhile, the German embassy in Thailand has sent out an official letter stating that they are encouraging freedom of speech and welcoming messages from peaceful protesters at the Embassy today.
The demonstrators are now moving towards the Rama IV and heading to the German Embassy located at Sathon road where they were encountered by a group of police officers who are telling the crowd to disperse by 5:30 PM. since the gathering is not authorized. The group predictably ignored the instructions and insisted to keep marching to their destination.
Photos: Free youth, Thai Enquirer, Reuters