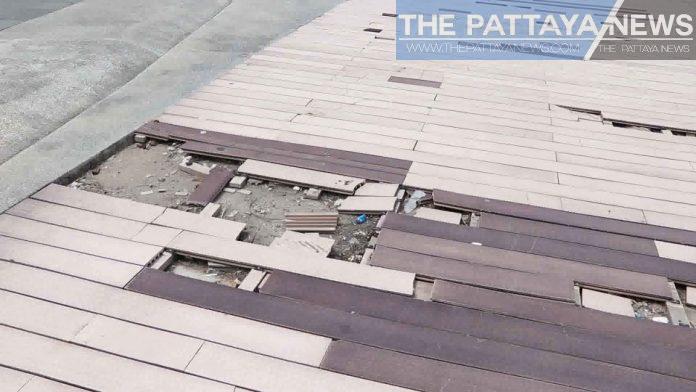 Pattaya, Thailand-
The following is our weekly feature in which we recap from our dozens of stories a week in a short, simple format the top five stories, as chosen by our editorial team, for Pattaya for the past week.  These are in no particular order of importance. This allows our busy readers to quickly peruse the information and stories we feel will most impact our local expats and residents without going through our dozens of daily articles. Don't forget to subscribe to our newsletter to get a simple daily spam-free email as well.
1. Pattaya City Mayor orders Bali Hai pier walkway and fountain area repaired
All we really have to say here is-Again? The area, originally meant to be a landmark dancing fountain and boardwalk, has for the second time since 2017 fallen into disrepair after neglect of regular maintenance.
Pattaya City Mayor orders Bali Hai Pier walkway, fountain repaired after falling into neglect again
2.  Dongtan Beach area case of "missing" trees has residents upset
In the second maintenance related story of last week, we now turn to Dongtan Beach where a 91 million baht restoration project has now seen many trees simply cut down and removed vs. regularly being taken care of.
Dongtan Beach and Pratumnak Hill area residents complain about cutting down trees and lack of maintenance
3.  Loy Krathong is coming next weekend along with Halloween and the Bikini Beach Run!
October 31st is looking to be a very, very busy night for Pattaya. But-no fire lanterns or fireworks!
Fire lanterns and fireworks banned in Pattaya for Loy Krathong, people attending asked to be respectful
4. Protests, both pro-democracy and pro-establishment come to Pattaya
The major protests in Bangkok dealing with politics came to Pattaya last week which saw several days of pro-democracy protests and some pro-establishment counter protests. They were peaceful and much smaller than their Bangkok counterparts.
Royalist supporters hold rally at Banglamung district office
Recap: Pro-Democracy protests continue for the third day in Pattaya
5. Covid Aid Charity concert coming to Pattaya
Want to help those affected by Covid-19 in Thailand and Pattaya? Here is your chance:
Covid aid charity music festival and dinner coming to Pattaya in November
As always, thank you for reading The Pattaya News.