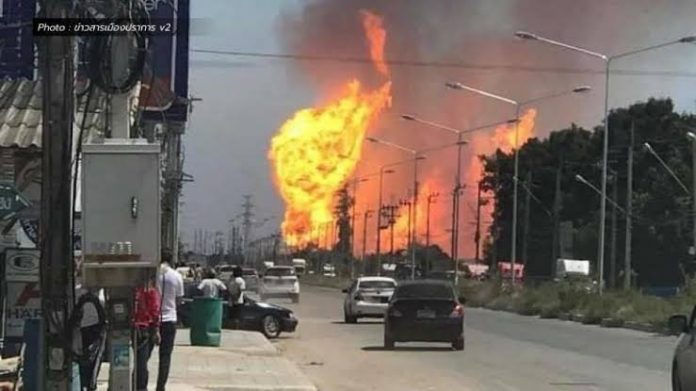 Samut Prakan –
A gas pipeline has exploded while gas was being transferred from Laem Chabang district to an industrial estate in Samut Prakan province this afternoon, October 22.
The incident occurred at Soi Preng Wisuthathibdee School in the Bang Bo District of Samut Prakan province. The explosion had sparked a huge fire in the industrial estate and has started to spread to local households nearby.
Video Credit: INN News
Locals and industrial employees were ordered to evacuate immediately, meanwhile, Samut Prakan authorities have already arrived at the scene and are in the process of sending fire trucks to extinguish the fire with water and extinguishing foam.
The fire has reportedly damaged more than 10 households in the area. At least 2 were reportedly killed and 20 other people were injured so far.
PTT Public Company Limited, who was reportedly accountable for containing the gas, has revealed around 2:34 PM. that the fire was now under control. It is initially believed that the explosion was caused by the leakage and diffusion of NGV liquefied natural gas in the pipeline.The cause of damage is still under investigation by the authorities. Meanwhile, officers from the PTT emergency control center have hastened to help the injured and resolve the situation as quickly as possible. We will have more on this developing story as it comes in.