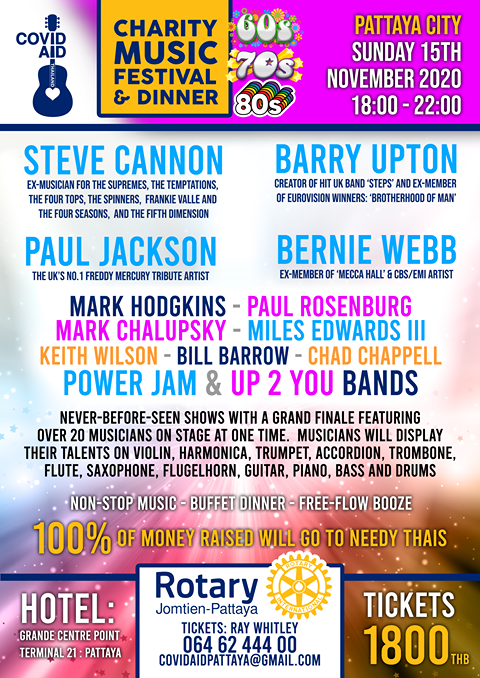 Pattaya, Thailand-
The following was sent to us by the organizers of the Covid Aid event in Pattaya which is set for Sunday, November 15th at the Grande Centre Point. The statements and event is run by them.
All proceeds go to charity.
COVID AID – Charity Music Festival and Dinner.
Rotary Club of Jomtien-Pattaya
Non-Stop music – Buffet Dinner – Free-Flow Booze
Pattaya City:
SUNDAY 15th NOVEMBER 2020
18:00 – 22:00
Hotel:
Grande Centre Point
Terminal 21 : Pattaya
100% of money raised will go to needy Thais affected by the COVID crisis.
Never-before-seen shows with a grand finale featuring over 20 musicians on stage at one time. Musicians will display their talents on violin, harmonica, trumpet, accordion, trombone, flute, saxophone, flugelhorn, guitar, piano, bass and drums.
TICKETS 1800 baht: Ray Whitley
064 62 444 00
covidaidpattaya@gmail.com