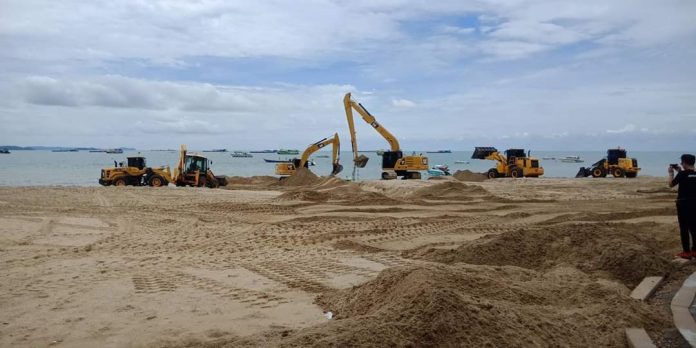 Pattaya-
Pattaya City spent much of yesterday repairing and recovering damaged beaches after heavy storms over the weekend caused flooding across the city.
First, you can read more about the storms here:
https://thepattayanews.com/2020/10/03/special-report-video-and-photo-journal-of-heavy-flooding-and-rain-in-pattaya-area/
Pattaya City Mayor Sonthaya Khunpluem personally visited Pattaya beach along with several of the deputy mayors and City Hall officials yesterday to personally oversee the process of repairing the damaged beach.
The rain, which took place in the early morning hours of October 3, caused deep trenches and erosion on the beach as water poured out to sea, but the Mayor told associated Pattaya press the system was working as intended for a temporary measure.
Mayor Khunpluem explained that the drainage work, which the city spent millions on last year, was not completed as a whole across the entire city and had been delayed by the Covid19 pandemic. Therefore, he said as a temporary measure the plan was to allow the water to drain out on portions of the beach. He stated that significantly less homes and businesses were flooded or impacted by the storms than prior years.
The Pattaya News notes that although the North portion of the beach was heavily impacted by the storms the South portion near Walking Street was in good condition. The Mayor also stated that the flooding that took place drained quickly compared to prior years before drainage system upgrades.
Mayor Khunpluem told The Pattaya News it should take about three days in total for construction vehicles to finish smoothing out the sand and beach following the storms.
The Mayor also said work was continuing on the second phase of drainage system improvements on Pratumnak Hill and other parts of the city.