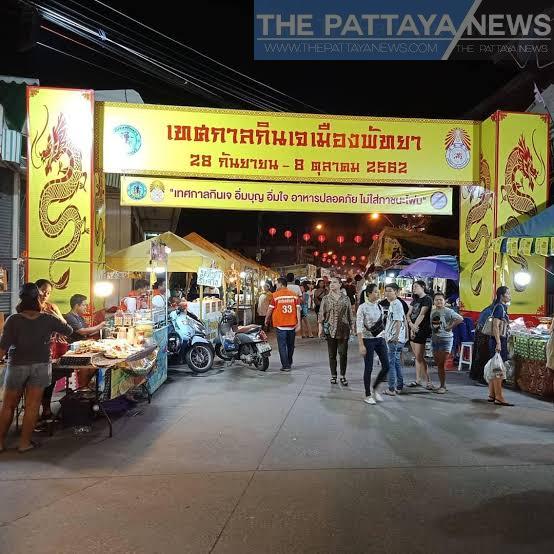 The following is a weekly feature, published once a week, that highlights the top five LOCAL stories in Pattaya as chosen by our editorial team for the prior week. The stories are in no particular order and are chosen based on what we feel are the five most important stories for local readers. We publish on an average day over fifteen articles so once a week we go through dozens of weekly content pieces to find what YOU should know each week. We also publish a top five National list every Monday night/Tuesday morning.
The following is for the week of September 20 to September 26, 2020 in no particular order of importance.
1. Pattaya and Naklua confirm that the annual Vegetarian festival will take place in October
Good news for fans of Pattaya's popular vegetarian festival: It will take place as normal this year in October in Naklua!  Although Covid-19 precautions, like mask wearing, will take place the event will be full of music, culture, art, a carnival and, of course, delicious vegetarian food! Here is more information:
Pattaya and Naklua confirms Vegetarian festival in October will take place
  2. The Pattaya Monorail, along with routes, was officially unveiled to investors this week who were delighted
Despite the Covid-19 pandemic, planning for the recently approved Pattaya Monorail project continues. This week a conference was held with over a hundred investors who were very pleased with the plans so far. The project will be started in 2024. The details are below:
Pattaya monorail project receives positive feedback from Thai and foreign investors at Pattaya conference, maps revealed
  3.  Hundreds of foreigners swamp Chonburi Immigration with amnesty set to end
Although it now looks like amnesty will be extended (several days after it ended) and a final decision will be made at a Thai Cabinet meeting today, September 29, 2020, last week many foreigners panicked at the approaching due date of September 26 and swamped Immigration. Pattaya and Bangkok were the hardest hit according to Royal Thai Immigration. Read more here:
Hundreds of foreigners line up in Chonburi/Pattaya for Visa work as Thai Immigration warns strict enforcement when Visa amnesty ends this weekend
4.  First local elections since 2014 likely to take place in December, including Pattaya
Pattaya has not had local elections since 2014 for local political positions, since the coup.  All positions have been appointed or stayed in position since that date.  This may change this December. It is of particular interest for expats as election days bring alcohol sale ban days as well per Thai election laws.
Hundreds of foreigners line up in Chonburi/Pattaya for Visa work as Thai Immigration warns strict enforcement when Visa amnesty ends this weekend
5.  Long holiday weekends coming in November and December
Although this can also be considered national news, Chonburi Hotel Association members are already indicating heavy booking for these weekends which is good news for business venues that rely on domestic tourism.  Pattaya is very quiet currently due to lack of international tourists but this may change on the holiday weekends when Bangkok residents pour into the area as they did in September.
Thai Cabinet officially announces two long weekends in November and December to encourage domestic travel and spur domestic economy
That is all for this week, thanks for reading!