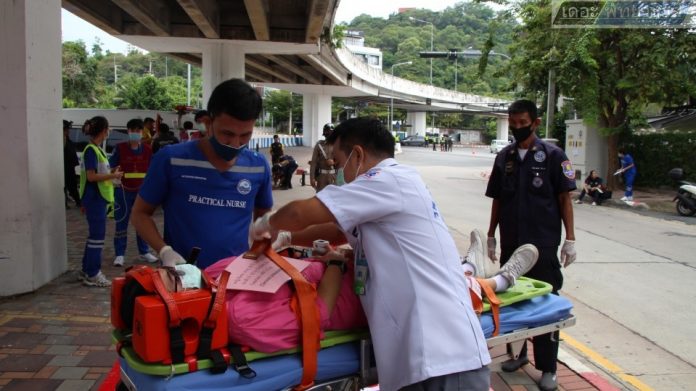 Pattaya-
Yesterday afternoon, September 23, 2020, doctors, nurses, police and rescue workers participated in an annual emergency medical drill near Bali Hai Pier to test response times and performance measures for staff involved in the exercise.
The drill took place from about 1:00 PM to near 4:30 PM and temporarily suspended traffic near the Bali Hai Pier and Second Road underpass.
The event involved dozens of participants as well as The Pattaya News reporters who were on hand to record the event. Some of the organizations involved in the activity were the Bangkok-Pattaya Hospital, Pattaya Memorial Hospital, Sawang Boriboon Thammasathan Foundation, Pattaya Police and the Pattaya special affairs division.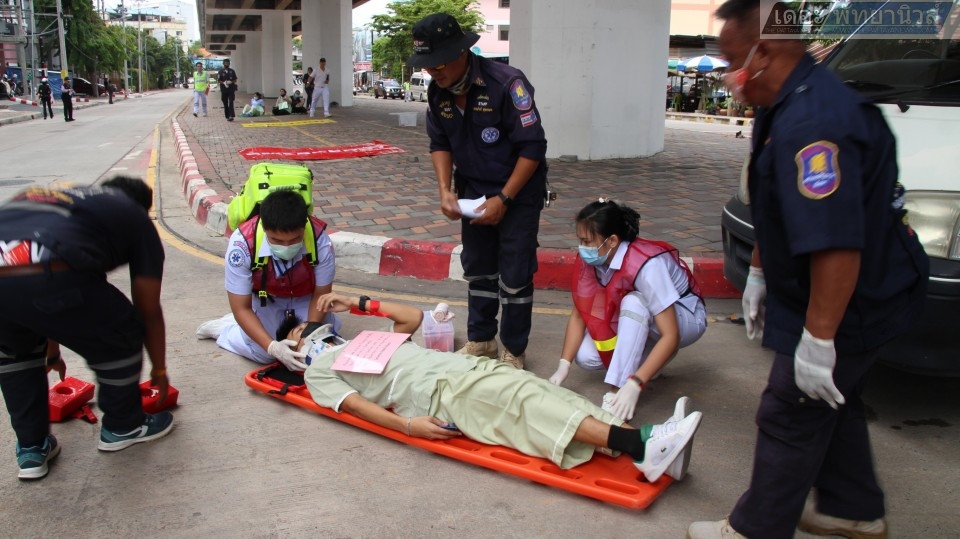 The drill involved a scenario in which there was a simulation of a passenger van accident with many victims. Actors played the victims who were divided into multiple groups which included four who were seriously injured, four who had moderate injuries, six with minor injuries and one fatality. The actors wore cards which identified their condition and some wore paint/makeup for the drill.
Supervisors and managers from the relevant organizations graded the response time of those participating in the drill, hoping to improve the quality of care and ability to save lives. Unfortunately, the drill is well needed in the Chonburi area as long time Pattaya News readers will know we generally cover multiple accidents a day.