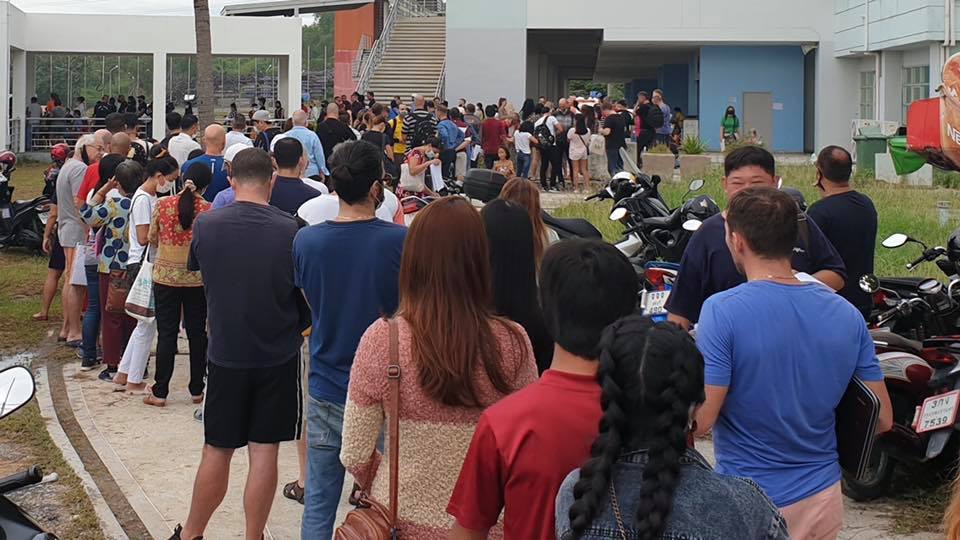 Chonburi-
Hundreds of foreigners lined up, with little social distancing, at a temporary Chonburi Immigration center this morning as the clock ticks on the end of amnesty, due to expire this Saturday, September 26, 2020.
First, learn more about amnesty and the story behind it ending here.
You can also learn more about Thai Immigration's stance on the situation here.
The photos show the temporary Chonburi visa extension center, NOT Jomtien Immigration which is where those on amnesty were instructed to visit to present paperwork and handle situations like embassy or medical letters. The line stretched out the door and appeared to have hundreds of people waiting at one point. The pictures were originally published on popular internet blogger Richard Barrow's Twitter.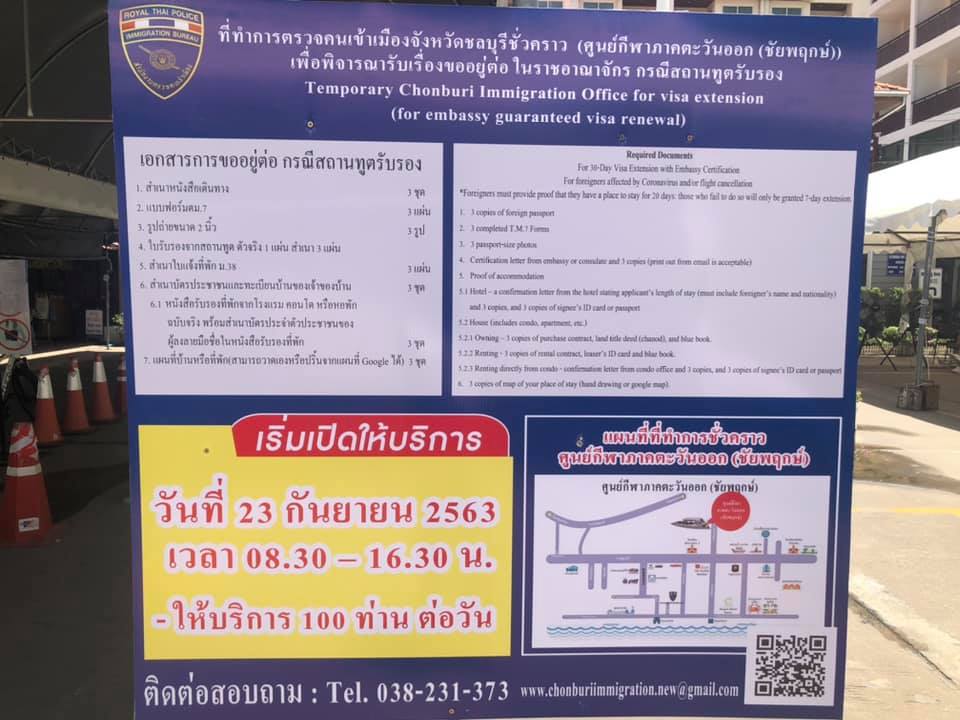 Reaction on social media was mixed, with some saying Immigration should have provided better social distancing measures or options but many stated it was the fault of those in line for waiting until the last minute. Today is only two days before the end of the amnesty which expires at the end of the day on Saturday of this week. Royal Thai Immigration as well as the media has been warning for weeks, The Pattaya News notes, of the impending end of the amnesty. Many in line had been waiting for an extension that never came.
Royal Thai Immigration, meanwhile, released more statements through their PR Channels this morning once again warning the 150,000 estimated foreigners in the country that if they did not come to Immigration and sort out their visa situation they would be tracked down and arrested.  Officials from Immigration and the Thai Government PR division released the warning below:
The Pattaya News suggests readers have a copy of their passport and stamp (It is Thai law) on their person after Saturday as Thai Immigration has previously stated they will likely be randomly stopping foreign nationals and asking to inspect their visa information. This is legal in Thailand.
The Pattaya News has previously stated our editorial position that the large group of Covid-free foreigners should be given the opportunity to stay if they choose to and can prove they have the financial means. Although behind the scenes discussion on this took place up to the last minute, it appears this has not been the case.  However, there are multiple options for foreigners to get extensions and Immigration has stressed they are happy to work with people but only if they come forward and explain their situation.
Facebook Notice for EU! You need to login to view and post FB Comments!