Bueng Kan –
Phu Langka National Park has announced an indefinite closure of the park and Naga Cave, one of the major national attractions in Bueng Kan, today, September 8, after being vandalized by visitors who violated the national park rules.
Many huge rocks inside and outside the cave were seen disturbingly written and gouged in Thai names, supposedly the names of tourists, and in Thai swear words. Some of them were rubbed with powder at the surface to supposedly find lucky lottery numbers.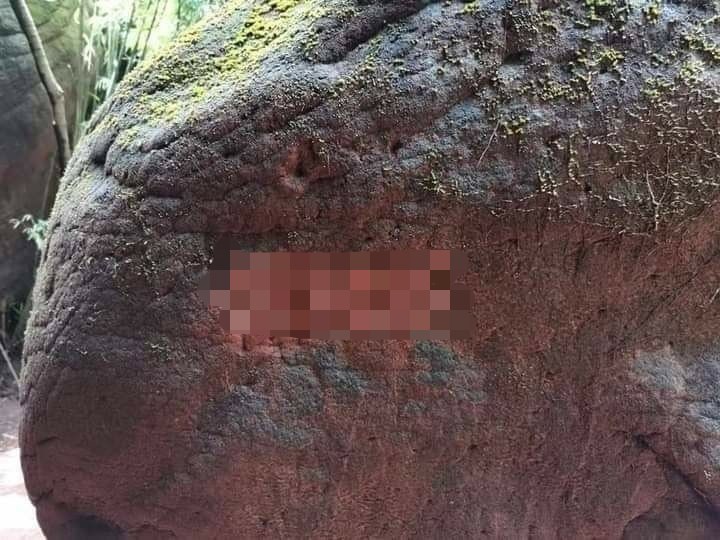 According to the national park's statement, some groups of domestic tourists who recently visited Naga Cave have violated the rules of not touching, writing, scraping, erasing, painting, or spraying paint and powder on the rocks inside the cave, which is an offense under Section 19 of the National Park Act B.E. 2562 (2019).
Phu Langka National Park and Naga Cave will be temporarily closed from September 9 onwards until the national park could take legal action against the vandals and set effective measures to prevent the destruction of priceless national resources caused by visitors.
The Naga Cave is a fairly new tourist attraction that has been recently discovered in July of this year. It features rock formations that resemble a mythological giant serpent-like creature known as Naga. A number of domestic tourists had visited the cave since the opening, especially in the long weekend last week.
Environment Minister Varawut Silpa-Archa told reporters that he would discuss with relevant officials to look for the best way to erase the inappropriate inscriptions and prevent visitors from touching the rock formations in the future.
"We apologize to the Thai people that we provided such loose measures which allowed visitors to destroy these beautiful and important natural resources. And for those visitors who destroyed property and natural attractions, you are no longer welcome in this place," he added.
The identity of the vandals has not yet been confirmed by law enforcement who are investigating. It is expected that those responsible will face significant legal charges.