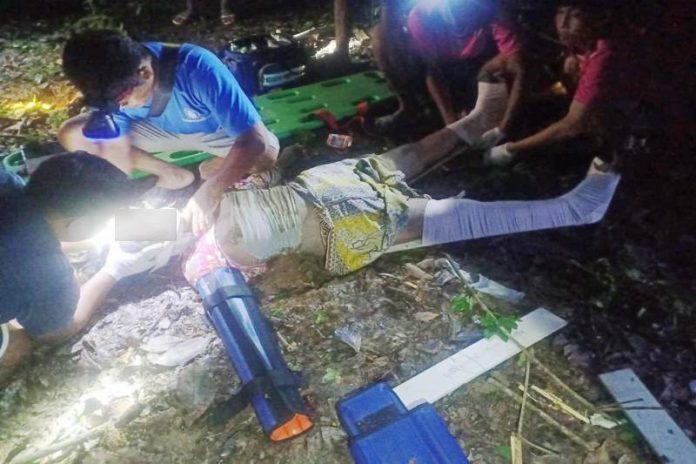 Rayong –
A Cambodian family of three, including father Wanna, mother Tyland, and a one-month-old boy named Titi, were rushed to a nearby hospital after encountering an elephant attack at a rubber tree plantation in Rayong last night, September 6.
Their coworker, who was only named as Sam, told officers of Nam Pen Police Station that the distressed elephant was passing by their plantation campsite where they were resting. It suddenly panicked after overhearing the baby crying and started to aggressively trample on the site, causing workers to flee in panic.
Unfortunately, the family did not make it in time as the animal had directly headed towards their tent and angrily destroyed the place. The workers immediately called the police and rescue workers chased after the elephant who had left the scene into the woods.
Wanna, 35, was injured with severe stomach and chest pain while his wife Tyland was tragically found with misshapen bones in her arm and leg. The baby boy was seen suffering from possibly throat wounds.
Kanjaras Eidthongsai, Khao Chamao district Sheriff and medic of Khao Chamao Hospital, told reporters that the family is being treated under close observation of Khao Chamao hospital officers. Meanwhile, district officers will provide full assistance in relocating the campsite and more official surveillance to prevent any harmful encounters with wild animals in the future.
The sheriff said: "We have a group of patrol officers during day and night time to protect residents from wild elephants but we assumed that this campsite was unfortunately set up on the elephant trail, causing the tragedy among the workers."
"They have already been recommended to relocate their campsite further away from the scene to prevent the reoccurrence. The authority will also provide supplies and other necessary materials for workers to help them move."
Photo Courtesy: Daily News