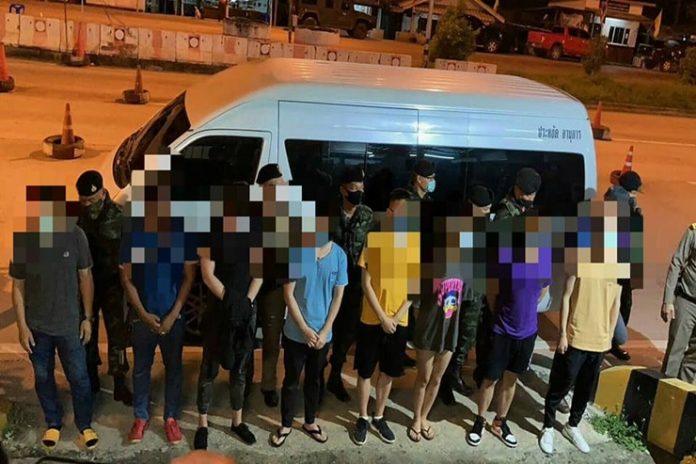 Tak –
Six Chinese illegal immigrants were arrested while allegedly crossing the Mae Sot border of Tak province by a passenger van early this morning, September 3.
Soldiers from the Mae Sot District Administrative Department were setting up a security checkpoint on a road along the Thai-Myanmar border when they noticed a white passenger van, registered in Sa Kaeo province, suspiciously driving from the border area.
They asked the van to pull over and found a Thai driver named as Arun Wirachai, 41, along with six other Chinese passengers in the vehicle. The foreign passengers were asked to show their identification but none of them held valid travel documents or immigration documents.
The initial investigation revealed that these Chinese immigrants were attempting to illegally cross the border to escape the current Covid-19 crisis in the neighboring country. The driver was reportedly hired for at least 15,000 baht per person to deliver them into the Kingdom.
The Chinese border-crossers were charged for entering and staying in the Kingdom without permission, violating the announcement of the Tak Communicable Disease Committee. They were detained at Mae Sot Police Station for further legal proceedings and medical testing.
Colonel Prasarn Sawaprasert, commander of the Special Task Force of the 4th Infantry Regiment in Mae Sot, told reporters: "Following the news of the Covid-19 outbreak in Myanmar, many Chinese people living in Myawaddy Province are now attempting to go across the Moei River and enter Thailand to escape the virus and potential lockdown measures."
"Our Thai officials have tightened our screening proceedings and conduct daily patrolling on waterways and border checkpoints in order to prevent illegal immigration and the possibility of Covid-19 spread."
You can read more about the Covid19 situation in Myanmar and how some areas are undergoing strict and draconian lockdowns here.
https://thepattayanews.com/2020/09/02/parts-of-myanmar-in-rakhine-state-and-yangon-enter-ultra-strict-stay-at-home-lock-down-to-fight-covid-19-thailand-on-guard/
Photo Courtesy: Matichon Online