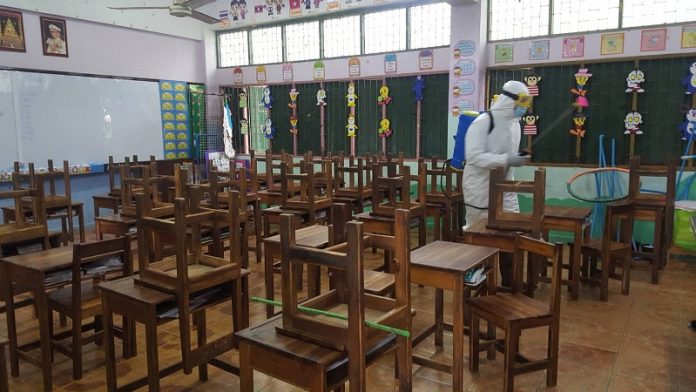 Kanchanaburi –
Ban Kui School in the Thong Pha Phum district of Kanchanaburi has been temporarily closed for three days after three students came in close contact with illegal border-crossers from Myanmar who were ill.
Kanchanaburi governor Jirakiat Phumsawat had sent a group of volunteers to perform a major clean-up at the school yesterday, September 1, to prevent the spread of the virus.
Jirakiat announced online regarding the public concern of the spread of Covid-19 in the region that no Covid-19 infected cases had yet been found and the school closure was just a precautionary measure against the situation.
He stated: "The authorities had taken 3 cases of who reportedly had a fever, including a 20-year-old male, 17-year-old male, and a 1-year-old child, to the state quarantine and to conduct a Covid-19 examination. They were border residents who had been in neighboring areas of Myanmar for more than 2 weeks and had not traveled to any place that was near the risk of infection."
"The latest result of the examination proved that none of these people with a Covid-19 risk were infected. We would like to inform the public not to be over concerned about the situation."
Following the second wave of the spread of Covid-19 namely in the Rakhine state of Myanmar, the disease-control measures have been reinforced along the Thai-Myanmar border across the country in order to monitor the illegal-crossers of neighboring countries who could possibly cross the border by waterways and other natural channels.
Photo Courtesy: Daily News