Bangkok –
Cameroonian suspect Ferdinand Ayuk Agbor, 34, along with Souhadou Traore, an Ivory Coast national, 35, and Thanwaros Worasarn, 24, of Thailand, were arrested for allegedly operating an online false company for selling medical gloves overseas.
An inspector of the Consumer Protection Police Division (CPPD) received a complaint from a German national in the United Arab Emirates who claimed that he had lost over 57 million baht to a website, www.grandig.com, which allegedly produces Latex, Nitrile, and Vinyl gloves for selling globally.
The complainant had transferred the amount of money to the account under the company name but no gloves were delivered and the, the company could not be reached and all their contact channels were disconnected.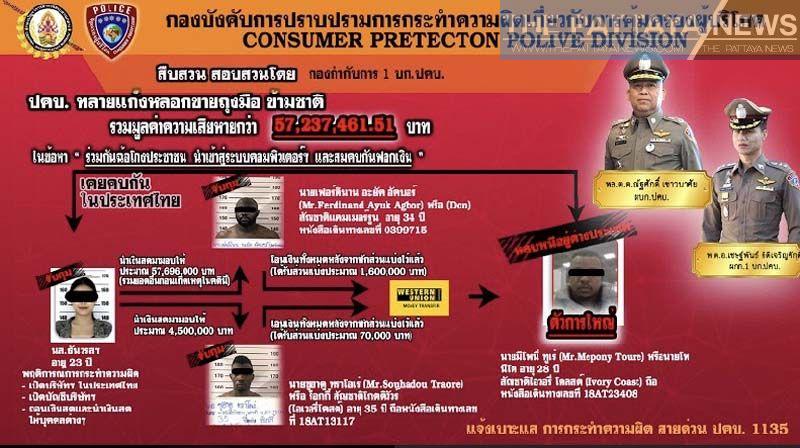 Furthermore, The CPPD investigation found that a man identified as Mepony Toure, also from the Ivory Coast, 28, who was a friend of Thanwaros and lived abroad, had arranged for her to operate the company in Thailand and open a bank account.
Thanwaros would allegedly withdraw the money and distribute it to her two friends. Agbor allegedly received 1.6 million baht, Traore got about 70,000 baht, and Thanwaros about 400,000 baht, according to Police Colonel Chetphan Kiticharoensak, superintendent of CPPD sub-division 1. The remainder evidently went to Mepony.
The arrest took place at their apartment in Bangkok last Thursday, August 24 but was just openly presented to the press this week. A bank account was found registered under a company name, a large amount of cash, and other valuable items were also found at the scene.
The three suspects were initially charged for colluding in public fraud, putting false information into a computer system, and money laundering while the CPPD is currently filing an Interpol request to arrest the fourth suspect, whose exact location is unknown but is currently not in Thailand.
Photo Courtesy: Naewna