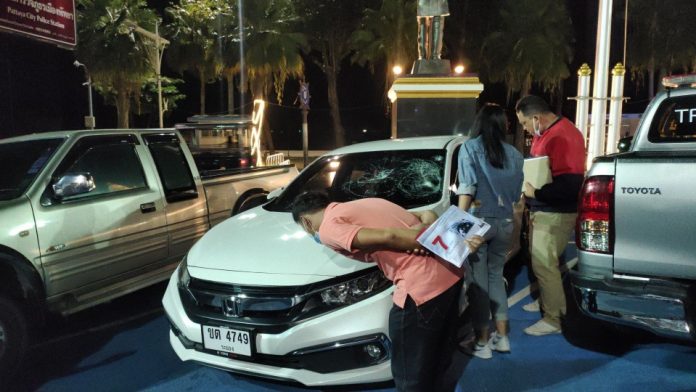 Pattaya-
A transgender homeless person was arrested this morning in Pattaya and accused of smashing a parked vehicle with a large brick.
The incident took place at 12:30 AM this morning on Pattaya Beach Road. The vehicle in question is a white Honda Civic and was parked on the beach.
The suspect is a 35 year old transgender homeless person who was not immediately identified by police. The individual appeared to be suffering from a mental illness and was unable to answer questions. This same individual was arrested only a few weeks prior for throwing rocks at moving vehicles on Second Road in Pattaya. Click here for more on that story.
The owner of the vehicle was found nearby, 30 year old Ms. Sirikwan Srivech, age 30. She had not present during the incident but arrived shortly afterwards as she had been nearby and heard the sound of smashing glass near her vehicle. She ran to the scene and called Pattaya Police after seeing her windshield smashed.
Ms. Sirikwan stated she had not nothing to provoke the suspect and had never met the suspect in her life before. A video of the aftermath of the incident can be seen here.
The suspect was arrested for the second time in less than two weeks and brought to the Pattaya Police Station. The suspect had been released without charges after the prior rock throwing incident as the former victim had declined to press charges. This time, however, police stated the suspect will face both charges and a full mental evaluation.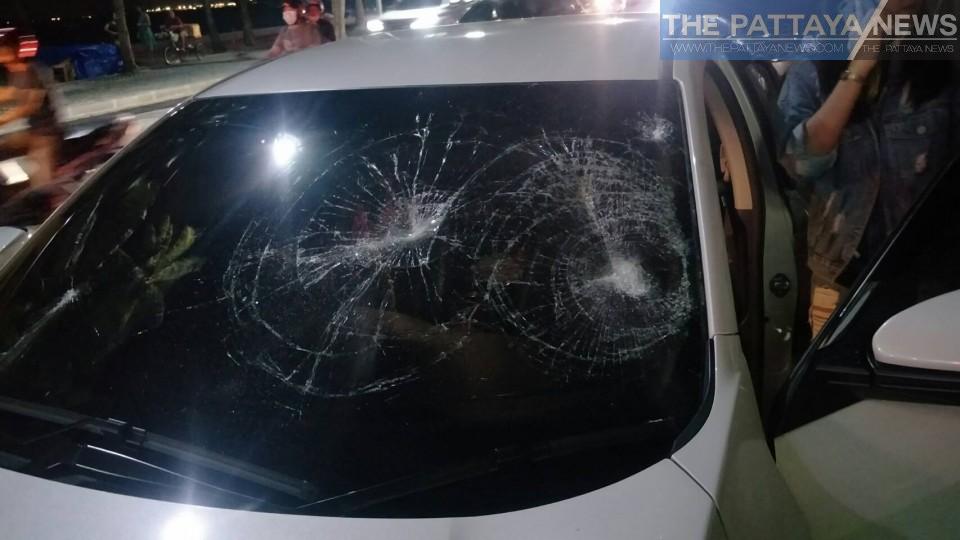 Pattaya has been facing an uptick in the local homeless population that city officials have been working to get under control. This is primarily due to the Covid-19 pandemic, according to officials, and the ban on international tourists that Pattaya previously depended on to make an income. This is the second incident in two days.
Yesterday a video went viral of a homeless woman approaching a couple she did not know and eating their ice cream at a local restaurant in front of the shocked couple. The whole incident was caught on video.